Transgender actors: 'I don't want to be pigeon-holed'
By Gena-mour Barrett
Newsbeat reporter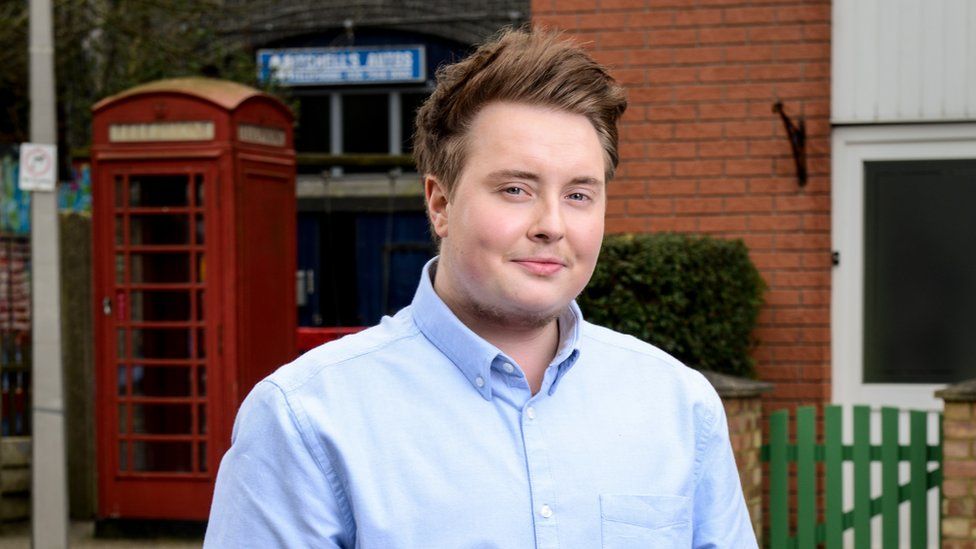 The first transgender man in British soap history to play a recurring trans character says roles like his "opened the pathway for other roles".
But Riley Carter Millington says opportunities are still "very limited".
He began his year-long role as EastEnders' Kyle Slater in 2015.
Annie Wallace became the first transgender actress in a soap with her role as Sally St Claire in Hollyoaks shortly after, and last month Emmerdale welcomed its first transgender character by recruiting Ash Palmisciano.
While Riley says he "hadn't experienced the trials and tribulations of auditions for trans actors" when trying out for EastEnders, the 24-year-old actor admits it's "more of a struggle to get those cisgendered roles".
Transgender applies to someone whose gender is different from their "assigned" sex at birth.
Cisgender describes someone who is not transgender. It applies to an individual whose gender matches their "assigned" sex at birth.
Riley says it "feels like we are cast as people with a limited ability when there's a massive range of ability".
'All things are not equal'
Laverne Cox, Chaz Bono, Alexandra Billings, Brian Michael, Jen Richards and Trace Lysette are all included in the interviews.
The magazine has dedicated its latest issue to trans representation in Hollywood, complete with an open letter calling for networks and studios to tell more "authentic stories" for and by transgender people.
"If all things were equal then everyone should be able to play every character, but all things are not equal," says Laverne, who plays trans character Sophia on Orange is the New Black.
"The suggestion that acting is acting and everyone's on a level playing field is ahistorical, is apolitical."
Riley says things are "getting better", but he agrees that "what lacks is the opportunities".
"I'm proud to be transgender, but I like to explore different things and different roles as an actor. I don't want to just be pigeon-holed into trans roles, I want to explore the cisgendered roles.
"The trans label should be taken off - just see us as actors."
Scarlett Johansson and LGBT backlash
Scarlett Johansson was also a topic discussed in the Variety roundtable.
The Avengers star dropped out of a role in the film Rub & Tug - which is still in the early stages of being made.
Scarlett was going to play a transgender man, 1970s Pittsburgh crime boss Dante "Tex" Gill, who was born Jean Gill.
But she dropped out of the role following backlash from the LGBT community.
Transparent actor Alexandra Billings says Scarlett did "serious damage" and that her initial apology "silenced" trans people.
Trans actor and director Jake Graf tells Newsbeat he thinks the decision to cast Scarlett Johansson was "poor".
He says the producers of Rub & Tug didn't even consider any trans actors for the role.
Jake cast a cisgender actor in his film Brace, which he says he "regretted at the time", but he also admits that he struggled to find visible trans actors "five or six years ago".
"At the time, all I wanted was to cast another trans actor opposite me to play that trans role and we couldn't because they just weren't out there.
"Obviously I would never do that again, but now I'm very lucky in that I'm incredibly well-connected to lots of amazing trans actors but at the time it was really, really tough."
In terms of the debate around cisgender people playing transgender roles, Jake says "it's important that we don't only say that a trans actor can play a trans role".
"Because then I think you're falling into the trap of saying only a gay actor can play a gay role, and in that case can only a cisgender actor play a cisgender role?"
Instead he thinks everyone who wants to act should "learn that craft and put the work in".
"I think to expect a foot in the door just because you're trans kind of comes across to me as a bit lazy and a bit entitled.
"But those actors who have taken the time, I think we certainly should get that first call and just at least be seen like everyone else is getting seen for those parts.
"We certainly need to be given these opportunities."