Why young people are filling their homes with plants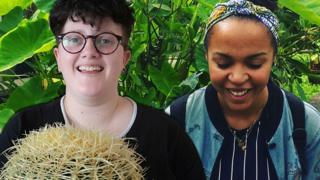 Animal hair everywhere. Dealing with poo. Claw marks in all your furniture.
You don't have to put up with any of this nonsense if you fill your home with houseplants instead of pets.
And that's what many young people seem to be doing, according to research by The Economist into how millenials spend their time and money.
It suggests the fact that more people are living in flats - plus our desire to be independent for longer - has led to a boom in houseplant obsession.
'Ideal for my lifestyle'
"We all have such hectic schedules," says 24-year-old theatre producer Daisy Hale, who lives with three others in a houseshare in London.
She says she'd like a puppy, but for now is making do with company from living things that put down roots in terracotta pots.
"Having plants is definitely a sound alternative because they are always there for you when you come home."
She started filling her home with plants when an aloe vera she was given 10 years ago began sprouting "children" - and now finds that the plants in her home fulfil her need to nurture.
"Being able to care for something but not having too much commitment - I guess that's a classic millennial line - is ideal for my lifestyle," she says.
'It lifts your soul'
For Liz Ward, a 26-year-old manager of a youth project, plants have an even deeper connection.
She says her earliest memories are of her mum's plants in a one-bedroom flat in Birmingham. So when she went to university in Reading - buying a cactus for her room in halls was her first move to make things feel like home.
"When I was at uni I went through a dark time where I was really depressed. I was going out a lot, drinking a lot and felt awful," she tells Newsbeat.
"I bought this little plant called an aeonium. I nursed it back to health alongside coming out of depression over a couple of years.
"That's when it really solidified for me that these plants are really durable - but actually you can't just leave them for months, you have to put some care into them."
Later, when Liz relocated to London, she did exactly the same when she moved into another new space.
"Plants are a constant that just bring a bit of life to what can be quite a concrete, steel, lonely place sometimes," she says.
"I don't think it's something to be reduced or knocked off as being silly or inconsequential.
"It can sometimes be the only other thing that's living and the only other thing that's natural in your environment and your space. It just lifts your soul a little bit."
'Chemical high'
Alice Vincent, author of How to Grow Stuff, says she has seen interest in houseplants among young people grow since 2014.
"We grew up with screens and the internet," she tells Newsbeat.
"We've basically not spent that much time engaging with nature during our youth and so we're finding it for the first time now as adults.
"It's the notion of having another living thing around, and also there is a unique, unabashed positivity to seeing something grow.
"You can't find a chemical high like that you get from seeing a new leaf unfurl, I promise."
Daisy says when she finds new growth on her plants, she shares photos on Instagram and in group chat with her friends.
But for Liz, it's an even bigger moment.
"If I can coax a little pink flower out of a cactus, I feel like the GOAT [greatest of all time]," she says.
"I have achieved an ability to bring something new and beautiful into this world, it's so exciting."
Follow Newsbeat on Instagram, Facebook and Twitter.
Listen to Newsbeat live at 12:45 and 17:45 every weekday on BBC Radio 1 and 1Xtra - if you miss us you can listen back here.