Tinchy Stryder: Barry Chuckle was a 'super cool, talented, humble legend'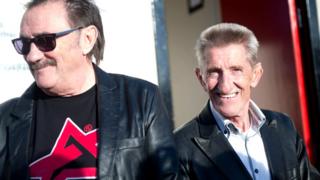 Tinchy Stryder's paid tribute to Barry Chuckle calling him a "funny, down to earth, super cool, talented, humble legend".
The comedian's death was announced earlier today, aged 73, by his manager.
The rapper recorded a charity single with the Chuckle Brothers back in 2014 in aid of the African-Caribbean Leukaemia Trust.
The track, To Me, To You (Bruv), also made it on to Radio 1's Live Lounge.
The video for To Me, To You (Bruv), was based on a well-known Chuckle Brothers sketch from their 90s television show.
Shot on a housing estate, it showed Barry and Paul Elliott arguing over a ladder before joining Stryder for a game of table tennis.
With lyrics like "You must be Barry, and he's Paul / Nah something's weird, where's your ladders?" it was a hit on social media.
Tinchy had been a childhood fan of the Chuckles, so when he met them on an episode of Keith Lemon's ITV2 show Celebrity Juice he invited them to his London studio.
Fans clearly enjoyed the collaboration and are remembering it fondly.
Curtis Davies, who plays football for Derby County, tweeted that The Chuckle Brothers were a big part of his childhood.
Many others who grew up watching ChuckleVision - which ran for 292 episodes between 1987 and 2009 - have been expressing their sadness too.
Fans have been sharing photos they were lucky enough to snap with the comedy duo.
Including this memorable snap of the brothers with a girl on a night out in Leeds which went viral when people pointed out her arm looked like... something else.
Others who grew up watching them on the TV have been thanking them "for the memories."
AJ tweeted that if you didn't say the catchphrase "to me, to you" while you were carrying something with someone - you weren't doing it right.
While some just left the catchphrase hanging.
Follow Newsbeat on Instagram, Facebook and Twitter.
Listen to Newsbeat live at 12:45 and 17:45 every weekday on BBC Radio 1 and 1Xtra - if you miss us you can listen back here.