Brighton Pride's Queer Prom: 'The night we always should have had'
By Michael Baggs
Newsbeat reporter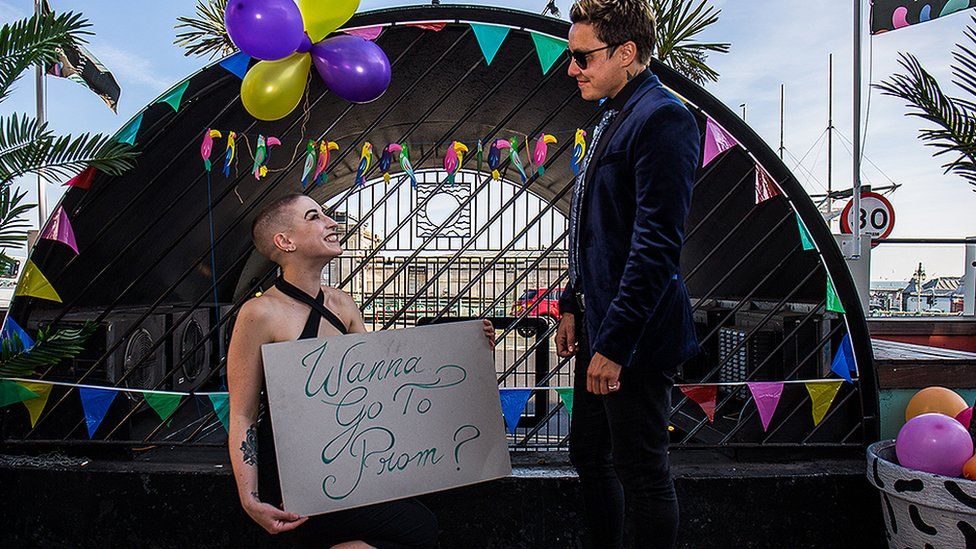 Around 400,000 people will flock to Brighton this weekend - not just for the sea air, but for one of the UK's biggest Pride events.
The event will allow LGBT people who may not have had a good experience at their prom, to get a second chance.
The organisers wanted to put on an inclusive prom that isn't so focused on traditional gender roles.
"The school dance and the school prom are still very heteronormative experiences," says Jules Guaitamacchi, who runs the event with their partner Vicki.
"Men go in tuxedos and women go in a dress and that's just the way it is. It's a very difficult thing to be able to embrace your sexuality and embrace who you are when you're surrounded by people who are going to bully or judge you.
"It's nice to be around people and a community of people who understand them, rather than having to stand out."
Queer Prom first happened in 2014 and Jules and Vicki put on a Winter Prom earlier this year.
At Queer Prom, there's no dress code and couples from every part of the LGBT spectrum get a traditional prom experience mixed with drag and cabaret performances.
Vicki believes that social media has fuelled the rise of prom culture in the UK: We've become more aware of how proms play such an important role in school life in the US and imported the idea.
Students have tried to put on LGBT proms in other parts of the UK
Vicki gives talks in schools on diversity and says the lack of LGBT inclusion at proms in the UK could be due to the attitudes of teaching staff, rather than students.
"I know a few schools have thought about putting on their own LGBT dances and have tried to get things going, but more so the students than the teachers," they say.
"I think we're stuck in an older generation who just haven't made way for us."
But Vicki admits that changing attitudes do mean that some young LGBT people have had positive experiences of proms in the UK where they have been able to attend with their partner.
"Things are changing, the more (that) society is accepting LGBT people, but it's still very difficult," they say.
Queer Prom takes place on Friday, the first night of LGBT celebrations in Brighton as part of the annual Pride event.
"We see people from all over the country and different parts of the world travel to Brighton and our Pride is a really nice representation of unity and a chance for people to come together and celebrate being LGBT or an ally," says Jules.
Jules and Vicki's event has previously attracted people in their late teens, as well as those in their fifties and sixties. Some of them have travelled from across the world, but they had one thing in common: They felt that they missed out on their school prom.
"It's so important that we get to have the night that we always should have had," they say.
Jules identifies as non-binary and uses the pronouns they/them.