How to make a video game: Developers say 'anyone can do it'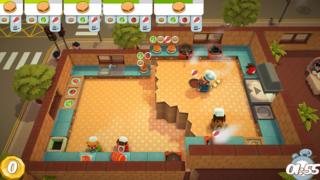 When you think of game development, you might imagine hundreds of people working at huge studios like Sony or EA.
But independent developers, or indies, make big games too.
These are small teams, often with modest budgets, who make games without creative input from investors.
Popular farm simulator Stardew Valley and chaotic co-operative game Overcooked were built on desks in bedrooms - yet both have been recognised by BAFTA .
We headed into the woods in central Sweden to visit Stugan, a programme that brings indies from the UK and all over the world to the Nordic countryside to work on projects side-by-side.
There we asked three teams one simple question: Can anyone make games?
'Start small'
"Often gamers who want to get into development will want to make something like World of Warcraft or Final Fantasy," developer Mark Backler tells Newsbeat.
"But games like that take years and teams of hundreds if not thousands of people to make, so you need to start really small."
His game, Lost Words, is the story of a young girl who enters an imaginary world through the pages of her diary.
Starting alone, Mark's built a lean, talented team of writers, designers and programmers - including Rhianna Pratchett, who wrote the rebooted Tomb Raider game.
Other indie studios, like Spiral Circus, work in even smaller teams.
Dominic Clarke was a scientist and Tom Mead was an artist before they joined forces in October to start making their first game.
Dominic encourages those learning the ropes to "just make stuff" for fun.
"You don't have to make a multiplayer game with posh bells and whistles."
"Make a silly game about pushing balls around. If you keep practising, you'll learn."
Choose a game engine
Every developer, whether a big name studio or a single person working alone, uses a game engine.
This is the tool that makes your game.
Think of it like a LEGO kit, there are many different sets to choose from, and each one contains the building blocks to create different structures.
A game engine is a piece of software that packs everything needed to craft a playable experience. They include tools for graphics, animation, programming, artificial intelligence and more.
Emily Mulgrue, who is making a game about witchcraft called Grimoire, recommends aspiring developers first "look into simple engines like Scratch, Stencyl or Twine.
"Then when you've made a few games, you can look at more sophisticated engines like Unity or Unreal.
"GameMaker is also a good engine and sits somewhere in the middle so could be a great choice."
Don't be afraid to study something else
Not being a hardcore gamer could actually be an advantage.
Legendary developer Shigeru Miyamoto - the creator of Super Mario - told the New York Times that he likes to work with people who are more than just gamers. Instead he prefers designers with "a lot of different interests and skill sets".
The reasoning is that the best art creates something entirely new, rather than copying what's already come before.
"If you just stuck two games together to make a new game you'd just have a very limited set of ideas and a subpar product," explains Emily.
Instead of cannibalising successful games, she thinks developers should find inspiration in culture, film, science and nature.
"You don't have to study games to be a game developer. You don't even need to be a game developer to make games," she says.
"Although I guess once you start you are technically a developer!"
Find support
Indies often work in isolation, but you can still find a tribe of like-minded people to sound out your ideas.
Online groups provide constant emotional and technical support, while programmes like Stugan bring developers out of their private spaces to form real-world friendships.
"If you're interested in game development, there are meet-ups and communities," says Dominic.
"I'm sure every city in the UK has them.
"Games communities are so lovely, inclusive, and people won't elbow you out the door. It's very welcoming!"
It is also worth researching finance schemes.
"The UK Games Fund offers grants of up to £25,000 for UK-based games companies," Mark says.
"The government also allows UK game developers to claim back 20% of their production costs via Video Games Tax Relief."
But the developers' main piece of advice is to set aside some time during the week to experiment.
"Making games isn't magic, it's not something that only these geniuses can do," Dominic says.
"It's tough but it's just a skill. Anyone can do it and you just learn how."
Follow Newsbeat on Instagram, Facebook and Twitter.
Listen to Newsbeat live at 12:45 and 17:45 every weekday on BBC Radio 1 and 1Xtra - if you miss us you can listen back here.