Spoiler alert: Why people love looking up spoilers
By Elena Cresci
Newsbeat reporter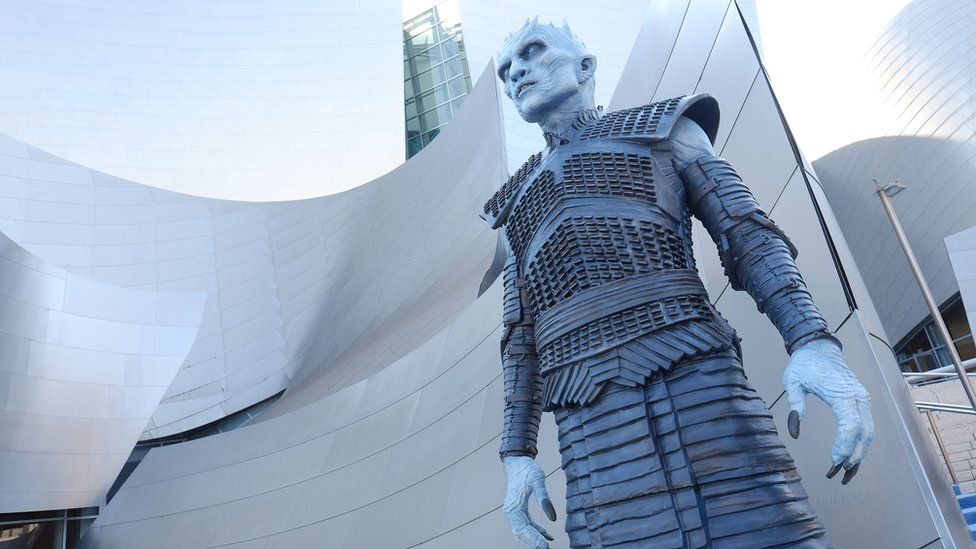 We're living in the age of the spoiler alert.
Everyone knows it's bad form to "spoil" a TV show or a film for someone who hasn't seen it by divulging plot details or a surprise twist.
But there are some people who go out of their way to read spoilers, devouring Wikipedia synopses with as much enthusiasm as most would have for the source material.
Why do they do it? And does it actually spoil the story or make it better?
'It's just a habit I've got into'
Karina Young, a project manager from Bournemouth, admits the first thing she does when watching a film is whip out her phone, look it up on IMDB and Wikipedia, sometimes missing the first 10 to 15 minutes of the film while reading the synopsis.
"I never think of it as spoiling though, it's just a habit I've got into," she told Newsbeat.
The 28-year-old is a big fan of the Saw films.
When Jigsaw, the latest instalment in the franchise, came out last year, she was determined to kick the habit.
"I vowed not to look it up, to save myself for the screening and enjoy it like it was meant to be watched," she said.
But Karina only made it to the snack bar before giving in.
"We got there early and while my sister was buying a drink, I read the full synopsis."
Back when Harry Potter and the Half Blood Prince was first published, comedian Ros Ballinger from Manchester flicked to the last few pages and (spoiler alert) found out Professor Dumbledore died before she'd even finished the first chapter.
"I always click the white-out on TV tropes and read spoileriffic articles on series," she admitted.
"I've heard a big spoiler for the first series of Jane the Virgin and I'm still enjoying it because it's such a dense series full of people and things, you almost forget."
Sometimes spoiler hunting is reserved for big series - the ones which dominate the headlines for weeks whenever they air.
Student Bridie Kennerley, 24, said she used to be a "chronic binge watcher" - but now she doesn't have the same amount of time to watch everything, she'll keep up by looking up spoilers.
"My worst is Game of Thrones, probably like a lot of people.
"I've also definitely done it with shows like Poldark, where I've just missed loads and can't face going all the way through and want to just catch up quickly so I can drop back in."
She added: "I think some people get it, but sometimes people will be talking about a show and say: 'Oh I don't want to spoil it for you' and I'll just tell them they might as well, because I'll do it for myself otherwise anyway."
Delving into the Wikipedia pages of series or films you're not planning to watch is all well and good, but why do it for pop culture you actually enjoy?
Dan Selcke, the editor of WinterIsComing.net, a Game of Thrones fansite, has a theory.
He's not someone who actively goes looking for spoilers, but, unlike a huge part of the Game of Thrones fandom, he really doesn't mind spoilers - not that he's able to avoid them in his line of work.
"I don't really have a choice; if they're out there, I will come across them," he said.
"But even if that wasn't the case, I've always thought that when it comes to this show, or any show, the journey is more important than the destination.
"It doesn't matter what happens so much as how it happens."
Each season of Game of Thrones has been plagued by leaks.
HBO is reportedly going to extreme lengths to ensure a spoiler-free final season. But Reddit and other social media are teeming with speculation and potential spoilers.
Dan says being a spoiler-hungry Game of Thrones fan sniffing out potential storylines is one way people engage with the fandom.
"I also think there's a community aspect to it," he said.
"It's fun to stumble on a secret about what's coming and then freak out about it with your friends."
'Be prepared for what's happened'
Then there are those who feel better if they know what's going to happen in a film or TV series - particularly horror films.
Dr Pam Thurschwell of the University of Sussex's English department says she feels the same when it comes to horror films.
"Sometimes you just want to be prepared, and it means you're more relaxed when you're watching," she said.
She believes social media has also played a role - because people want to take part in the conversation about a popular TV show or film even before they've seen it.
"Before social media, spoilers weren't really a problem because when it came to TV, people were probably watching it at the same time," she said.
The psychology of spoilers
Back in 2011 researchers Nicholas Christenfeld and Jonathan Leavitt from the University of California, San Diego conducted an experiment with 12 short stories, two of which had paragraphs which explained the story's ending.
They were asked which stories they preferred - and they chose the versions where they knew the ending, even when the story contained a twist or a mystery.
When the study was released, Professor Christenfeld told the BBC: "It's sort of as if knowing things puts you in a position that gives you certain advantages to understand the plot."
Funnily enough, that's exactly how spoiler addict Karina feels about it.
"If I watch a film without reading about it I sometimes wonder if I'm missing things that should be important," she said.
"The irony is, when I watch a film I know about I pay more attention than to a film I haven't read about."