Reality TV and mental health: 'I wish I'd never gone on the show'
By Cherry Wilson & Tracy Ollerenshaw
Newsbeat reporters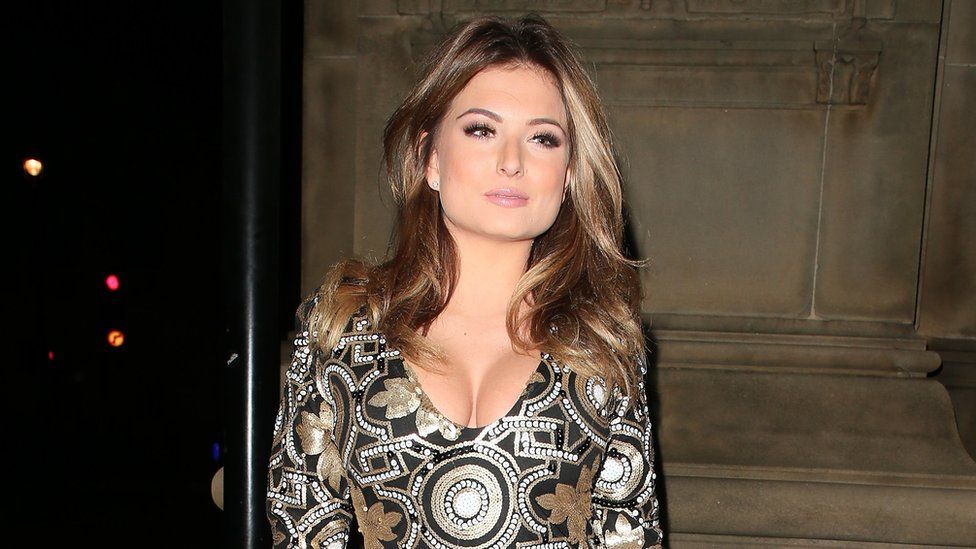 This year's Love Island finalists will probably come out of the villa to thousands more Instagram followers, offers of sponsorship deals and requests to appear on the nightclub circuit.
Fans have followed the contestants' adventures in Majorca for eight weeks, watching as they couple-up and compete for the chance to win £50,000.
But ex-reality TV stars have warned about the impact being on a reality TV show can have on mental health.
And they've urged producers behind such programmes to offer better support to their contestants.
Former Miss Great Britain Zara Holland, 22, was on Love Island in 2016 and was stripped of her title after having sex inside the villa.
At the time Miss GB said it could no longer "promote Zara as a positive role model" and that she "did not uphold the responsibility expected of the title".
Zara told Newsbeat that being on the show has left her feeling anxious and depressed almost two years on.
"I was tired all the time and I noticed a massive change in my personality. I kind of had no go-to at all and I wasn't really that happy.
"I never thought I'd be able to get out of this dark place I went to. It was really hard. It was a very weird experience and I never thought I'd be able to get better."
Earlier this year she was referred to a psychologist and put on anti-depressants.
"When I sat down and talked to them we together pulled out the target points that triggered everything off and unfortunately that was from going on Love Island."
Love Island insists it takes its duty of care to contestants "very seriously and this is always our top priority".
Sarah Goodhart, 24, was on series 14 of Geordie Shore - MTV's show which "follows a group of lads and lasses from Newcastle".
Sarah says she's concerned reality TV will one day "push someone too far".
In August she uploaded an 18-minute video onto YouTube called "The Truth" in which she accused the reality TV industry of being "corrupt".
Speaking to Newsbeat, Sarah said: "I just thought I was going to be rich.
"It was the opposite. I put myself in debt, my panic attacks were worse than ever."
Sarah says she had anxiety and depression before going on Geordie Shore, but admits not being honest during a psychological test to assess her suitability to appear on the show - because she wanted to be picked.
She said she felt "trapped" on the show and her requests for help were overlooked.
"On down days my request was to phone home and twice that request was ignored and I just felt very neglected. I didn't feel like I could talk to anyone about it because the schedule was so tight there was no time.
"I brought up a few times that I needed to speak to someone because I was losing my head a little bit but I was very rarely granted that chance."
A spokesperson for Geordie Shore said contributors' welfare is of "paramount importance" to Lime Pictures and MTV - which make the show.
The death of Sophie Gradon
Both of them knew her. Sarah from their home city of Newcastle and Zara was in the Love Island villa with Sophie.
Sophie had previously spoken about her struggle with depression and anxiety.
Feel so guilty when my anxiety takes over, for not wanting to see or speak to anyone. Some days I get so overwhelmed I just want to nap!

— Sophie Gradon (@sophiegradon) October 16, 2016
Zara says during the filming of Love Island there was a psychiatrist available 24/7 but she questions whether Sophie had enough support after she left the villa.
Sarah said: "I can't sit here and say that it was 100% Love Island that did this to her but I think it was a contributory factor.
"It's actually quite sad how many times Sophie has reached out to friends and said 'This experience wasn't good for me.'"
The mental health of this year's Love Island contestants has also been in the spotlight in recent weeks.
Media watchdog Ofcom received more than 2,000 complaints about the treatment of Love Island contestant Dani Dyer.
Those complaints related to a scene where she was shown a misleading video of boyfriend Jack Fincham.
Dani has been paired up with Jack since the beginning of the series. The couple were separated after the boys and girls were put in separate villas.
It was revealed in the clip that Jack's ex-partner Ellie Jones was in the new villa with him - leading Dani to burst into tears.
With everything recently that has happened with the #loveisland circle, you'd think the mental health of the contestants would be @ITV's no 1 priority. Clearly not the case, and what they have put the likes of Dani through is just distasteful in the current climate.

— Eleana Davidson (@eleanadavidson) July 1, 2018
Many reality TV shows have psychologists on-hand to assess contestants before they go on-air - and to offer support throughout.
Behavioural psychologist Jo Hemmings, who has worked on shows including Big Brother, says if she doesn't feel a contestant has the right coping mechanisms she would recommend they don't go on a reality show.
She says the majority of the time her expert advice is listened to - but not always.
"One time I had to go into a show during filming.
"I indicated there was some vulnerability and the producers hadn't done background checks officially and I had to ask this guy to leave in the middle of filming."
She wants reality TV shows to offer more aftercare - of up to a year - for contestants once they leave a show.
"A show is not finished when you stop broadcasting. Those feelings go way beyond filming and production companies need to make sure their contributors are looked after".
'Changes need to be made'
More aftercare is something Sarah would like to see too.
"Since I have said something I've had other people come to me from shows like TOWIE and Made In Chelsea who've said: 'I've experienced not even just depression - suicidal feelings following television and I didn't know anyone else felt like that'.
"And I think it's fair to say if it's making more than one person feel like they might potentially end their life then that's when a change needs to be made."
Zara admits that reality TV contestants know what they're letting themselves in for when they enter a show.
She says there were some amazing parts to being on Love Island and not everyone has the same experience she's had.
But she also wants people to be aware of the possible negative impact of entering the world of reality TV.
"You can earn a lot of money if that's what you want to do but really you need to look at the bigger picture and think in five, six, 10 years' time you're always going to be pretty much known for being on a reality TV show.
"It was a really hard time for me. And if I could turn back time I really wish I'd never gone on the show."
A Love Island spokesperson told Newsbeat "there is a lot of inaccuracy" in criticisms of the show.
They continued: "All of our islanders are offered psychological support before, during and after their time in the villa.
"We discuss with islanders, before and after the show, how their lives might change and the difficulties they might face.
"We direct them towards taking on professional representation after the villa, and help them through this process, so that they have experienced help as they face those pressures."
The spokesperson said Zara had management before and after she left the villa and "we were in constant contact with her representation throughout the process".
"Members of the production team maintained contact with her in the months after she left the villa."
A spokesperson for Geordie Shore said: "We work alongside independent medical professionals to ensure an appropriate support structure is in place prior to filming and throughout. All contributors are additionally offered support post-filming if it is required."