Hulk Hogan: Black WWE stars weigh in on his Hall of Fame reinstatement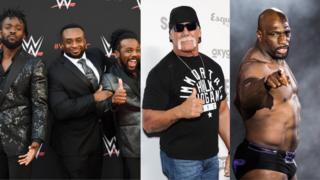 Black members of the WWE say they'll find it "difficult to simply forget" Hulk Hogan's historical racist comments following his reinstatement to the WWE Hall of Fame.
The 64-year-old was kicked out by the WWE when racist remarks he made about black people in 2007 were made public.
The New Day and Titus O'Neil say "time will tell" if Hulk Hogan has truly changed.
But they say they accept his legendary status in wrestling.
Kofi Kingston, who is one third of The New Day, posted a note on Twitter speaking for all three members.
"We are only writing this simply to provide an answer to the many who have bombarded us with questions on where we stand on the issue," the note reads.
The trio said they aren't happy about the decision, nor are they sad or angry or resentful: "Who WWE puts into the HOF is totally and completely up to the company."
"On a personal level," the statement continued, "When someone makes racist and hateful comments about any race or group of people, especially to the degree that Hogan made about our people, we find it difficult to simply forget - regardless of how long ago it was, or the situation in which those comments were made."
The New Day said they won't respond with "feelings of hate", instead choosing not to associate with people who "have conveyed this negative and hurtful mindset".
"Perhaps if we see him make a genuine effort to change, then maybe our opinion will change with him. Time will tell."
Hogan hasn't replied to The New Day's statement, but retweeted this tweet along with many congratulations messages from fans.
The WWE recently announced that Hulk Hogan was being welcomed back into its Hall of Fame after terminating his contract in 2015.
The Hall of Fame features more than 100 wrestlers and people associated with the world of wrestling, including US President Donald Trump.
"This second chance follows Hogan's numerous public apologies and volunteering to work with young people, where he is helping them learn from his mistake," the WWE said.
Some fans think Hogan - whose real name is Terry Gene Bollea - has apologised enough for his comments.
In 2015 it came out that he had said: "I guess we're all a little racist" and used the n-word repeatedly while referring to his daughter's love life.
Hogan later called it the "biggest mistake" of his life, and said that the language he used was "inconsistent with my own beliefs".
Some fans say Hulk needs to be given a chance to prove that he's changed.
Titus O'Neil shared a statement following The New Day's message, saying that he's a "proponent of second and even third chances for individuals that show true remorse".
But the 41-year-old said he echoes The New Day's sentiments: "Mr Bollea's apology 'That he didn't know he was being recorded' is not remorse for the hateful and violent utterances he made which reprise language that has caused violence against blacks and minorities for centuries."
The one-time WWE Tag Team champion said he believes Hogan is entitled to reinstatement, given he's a "hero and icon to countless people".
He ended: "I, like New Day, will continue to use my platform to positively affect, entertain, embrace, celebrate and love people from all backgrounds both inside and outside of the WWE Universe."
Other wrestlers expressed approval at what Titus had to say.
Follow Newsbeat on Instagram, Facebook and Twitter.
Listen to Newsbeat live at 12:45 and 17:45 every weekday on BBC Radio 1 and 1Xtra - if you miss us you can listen back here.