Captain America: Donald Trump is 'Putin's puppet'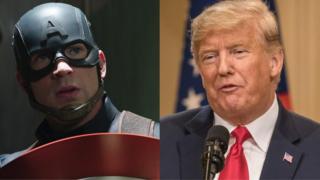 Captain America has called Donald Trump a "puppet" following a summit between the US leader and Russian President Vladimir Putin.
Well, the actor who plays him has anyway.
Chris Evans was reacting to Mr Trump's decision to defend Russia over allegations it interfered in the US election that made Donald Trump president - contradicting what his own intelligence agencies say.
The Avenger called it a "disgrace".
"Politics aside", the Democrat said on Twitter, "This is 100% un-American".
President Trump met President Putin at a summit in Finland's capital, Helsinki.
The world leaders spent two hours behind closed doors, but it was what happened in front of the cameras that people are talking about.
When asked about Russian meddling in the 2016 US presidential election, which 12 Russian military officers were indicted over on Friday, Mr Trump said: "President Putin just said it's not Russia. I will say this, I don't see any reason why it would be.
"I have great confidence in my intelligence people, but I will tell you that President Putin was extremely strong and powerful in his denial today."
US intelligence officers concluded, in 2016, that Russia authorised cyber attacks and fake news stories on social media which aimed to increase the chances of Mr Trump getting elected.
So President Trump's comments have angered a lot of Americans.
Mr Trump's team says "a productive dialogue" with Russia is "good for the world".
Arnold Schwarzenegger - a regular critic of President Trump - was more direct still, recording a video of himself comparing Mr Trump's performance to American leaders of the past.
"You stood there like a little wet noodle," he said. "Like a little fan boy".
Even Dictionary.com appeared to get involved, continuing the theme of throwing shade it demonstrated last week with Kylie Jenner.
It's perhaps unsurprising that liberal Hollywood actors are criticising Donald Trump. They've not exactly been his biggest fans historically.
More worrying for the president is that some people who've previously backed him are now suggesting his comments about Vladimir Putin are a step too far.
Abby Huntsman, a Fox News host and the daughter of the US ambassador to Russia, accused Mr Trump of abandoning Americans.
While long-time Trump supporter Newt Gingrich, a former Republican Speaker of the House, called it Mr Trump's "most serious mistake".
President Trump later tweeted to say that he has "great confidence" in his intelligence agencies.
Follow Newsbeat on Instagram, Facebook and Twitter.
Listen to Newsbeat live at 12:45 and 17:45 every weekday on BBC Radio 1 and 1Xtra - if you miss us you can listen back here.