Declan McKenna: My 12 months on the road
By Jimmy Blake
Newsbeat reporter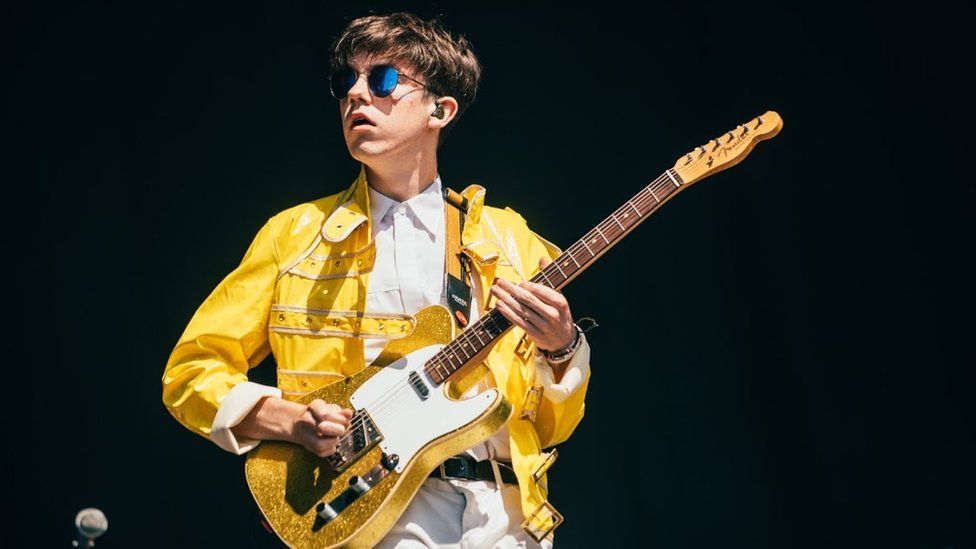 On 21 July 2017, Declan McKenna released his debut album What Do You Think About The Car?
It went to number 11 in the UK and sent him round the world.
Twelve months and "the craziest tour we've ever done" later, Declan says making a follow-up will "never be easy".
We caught up with the 19-year-old (who joked he's "getting on a bit") before his set at TRNSMT festival about a year of growing up on the road.
'It really took it out of us'
For fans outside the McKenna tour bubble, his handful of UK festival shows this summer might seem a bit quiet compared to 2017 when he was seemingly always in a field somewhere in Britain on any given weekend.
But this year, he's returning to home soil as a main stage staple.
"The level of festival show is still a bit fresh to be honest," he explains.
"They're a lot to take in but I enjoy it."
His new-found status shouldn't come as too much of a surprise though.
It comes off the back of a year of relentless touring, culminating in two months covering the length and breadth of the US.
"Yeah, it's been nice to take time off after America to be honest. It was the craziest tour we've ever done.
"We came home for a week during that whole time, then flew back out for the two Coachella weekends and a few more shows.
"It was amazing but definitely not a tour I think we'll ever do again. It really did take it out of us."
'I've never seen anything like it'
One of the things that kept him focused on his marathon tour was...service stations.
"I'll think: 'At the next truck stop I'm going to find the weirdest stuff possible'.
"That's what I dedicate my thoughts to when I'm out there. In a weird way, it keeps me going.
"I went to one - there's a chain of them where a chipmunk, or something like a chipmunk - is the logo.
"It was like something out of a Wes Anderson movie - cowboy hats and skinned animals galore. I've never seen anything like it.
"It's hard for it not to be an influence. I rarely finish songs on the road but a lot of them get started there."
'This album will be different'
Having spent a year building his name, both in the UK and around the world, Declan's focus has now turned to his next album.
"Releasing a record makes you realise what you want to do with music. It's not something you can understand before you do it.
"This album will be really different from the last one. I want to head in a more conceptual direction."
But the pressure of trying to follow the success of his debut album doesn't seem to be getting to him just yet.
"It's never going to be easy to release a second album. But I've done a lot of growing up so I'm actually kind of confident about the 'difficult second album'.
"I'm really enjoying the process of writing at the moment."
"Half the songs on my first album I wrote when I was 15 or 16.
"Now I'm 19, so getting on a bit, but you do a lot of growing up in those years and I've honed my craft a bit."
He jokes: "So yeah, Chipmunk 2.0 is the name of the album.
"I've been trying to think of names for the album... none of them are good enough to say. It's actually really difficult.
"St Vincent did a self-titled album four records in, so I could do that. I'll call mine St Vincent and I'll talk about St Vincent more in interviews."