Wireless Festival: Drake headlines as DJ Khaled pulls out over 'travel issues'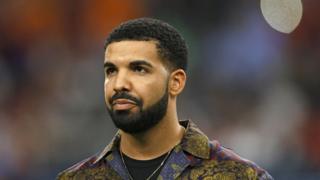 Drake played a surprise half-hour set at Wireless Festival in London's Finsbury Park on Sunday night.
The unscheduled appearance came after DJ Khaled pulled out of his headline set, leaving fans wondering who would replace him.
Rumours started flying round the site that it would be Drake, and they were right.
The rapper entered at the end of Giggs' slot with the pair playing their collaboration KMT.
Drake played tracks from his new album Scorpion, which went to number one on Friday.
Performances of his big hits God's Plan and Nice For What? went down well with the crowd.
But some fans were not satisfied, as Drake only played five songs in full, which were mixed with bits of his other big tracks - including Mob Ties and Nonstop.
Wireless had originally said that DJ Khaled wasn't turning up due to "travel issues".
They later wrote on Twitter that he couldn't get out of filming TV show The Four and they'd known "for months" he wouldn't be performing.
Eagle-eyed fans noticed that DJ Kahed wasn't even in the UK and had posted pictures of himself loving life on social media.
On Sunday he shared a photo of himself still on holiday.
And then he was on a private jet.
A lot of his fans weren't impressed.
Tarikanarula wrote: "I'm really upset @djkhaled, we went to a lot of effort to come and see you today and you don't even bother to come and see your fans or even provide an explanation. You've really let us down and made me cry on my birthday."
Rays_rayy wrote: "What flight issues? You're supposed to be performing in London at Wireless. You chose to stay on holiday instead."
Newsbeat has contacted Roc Nation, the entertainment company that represents DJ Khaled, for comment but they haven't yet responded.
Follow Newsbeat on Instagram, Facebook and Twitter.
Listen to Newsbeat live at 12:45 and 17:45 every weekday on BBC Radio 1 and 1Xtra - if you miss us you can listen back here.