Black Pride: Why we need an event to celebrate being black and gay
By Michael Baggs
Newsbeat reporter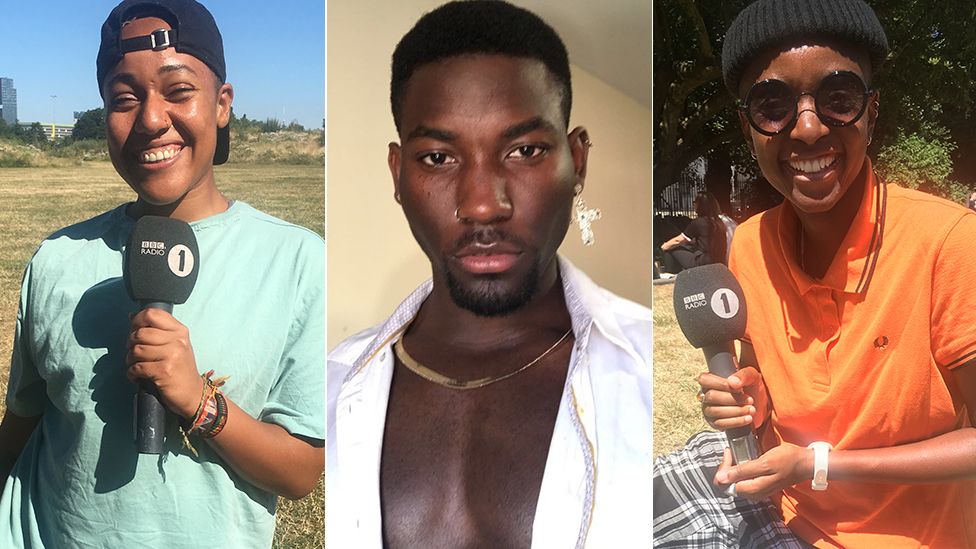 Hundreds of thousands of people will line the streets on Saturday to celebrate the LGBT community at Pride in London.
And that's why, the day after Pride in London, UK Black Pride takes place a few miles down the road.
It brings together music, food, performances and culture that many LGBT people from black or Asian backgrounds find missing at many Pride events.
In 2017, an estimated 6,000 people turned out to celebrate being black and LGBT in Vauxhall's Pleasure Gardens.
"The Pride in London parade itself is very white. You go there and you look out - you're in a sea of whiteness," says Tanya Compas, UK Black Pride's youth engagement officer.
"At Black Pride, even the stalls are reflective of the London community. They're selling jerk chicken, the Asian community have got their stalls selling different curries.
"They've got music we will listen to in our households and music we've grown up with playing out loud."
And when people question whether hosting UK Black Pride is divisive and ask "Why is there no white Pride?" Tanya says that already exists - it happens the day before.
"Nothing is done to make us feel like we're included there," she says.
"If you are there as a black person, you feel like you have to perform your blackness.
"If you don't come out being overt, very loud and dancing, people are looking at you like 'What are you doing here then? Why are you not performing for us?'"
Tanya says young black and Asian LGBT people need to experience a Pride which isn't "whitewashed and very cis-gendered."
"It's really important for young people to know there's a massive community of people that exists. Somewhere people are existing loudly and expressing themselves in their most unapologetic manner, still listening to the same music - but they are queer people," she says.
It's not just individuals who find Pride in London lacking in diversity.
"It is an event we are proud to support and showcases the best of what community-led Pride events can be - it is free to attend, accessible and welcoming to all," it said.
Stonewall said it chose to pull out of Pride in London after organisers rejected concerns about the lack of diversity at the event in 2017 made by its own community advisory board.
Pride in London tells Newsbeat it is "dedicated to making Pride a success for all our communities".
Asad Dhunna, Pride In London's director of communications, says its team of volunteers has been working to "deliver a Pride event that matters for people from all creeds and colours" in 2018.
Marc Biakath, a 20-year-old nursing student from Nottingham, is going to UK Black Pride for the first time this year.
"I'm excited to see the variety and diversity of the people who are going to be there and how familiar they are going to look," he tells Newsbeat.
He says knowing about events like UK Black Pride would have helped him when he was younger and struggling to come to terms with his sexuality.
"I was thinking 'I'm all by myself here, there's no-one to help, nowhere to go to, nowhere to celebrate this'," he says.
"It wasn't until many years later that I found out that UK Black Pride exists."
For Sherelle Thomas, a 24-year-old London-based DJ, it's the community aspect that keeps her returning year after year.
That and the "very good music and very good food".
"Black Pride is important because it's the only Pride you actually feel that there is a sense of a community coming together," she says.
Sherelle says many of her experiences on the gay scene and at other Pride events seemed geared towards white men.
"It's an amazing thing to have as a black lesbian woman who, a couple of years ago, would not be as comfortable talking about this, to have something like UK Black Pride represent myself and countless other people."