LeBron James's NBA move to LA has really got people talking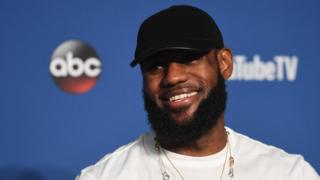 LeBron James's move to the LA Lakers has got a lot of high-profile stars excited.
Snoop Dogg, The Game, Zlatan Ibrahimovic and T.I. are just a few of the people who've tweeted to welcome "King James" to Los Angeles.
And his arrival at the famed basketball team has also led to a lot of memes.
Snoop is one of the Lakers' best-known supporters and shared an image of LeBron alongside some of the team's most legendary former players.
Ludacris seemed happy about LeBron's $154m (£116m) move for other reasons...
Zlatan welcomed LeBron in a way that only he could.
And Chrissy Teigen had some home truths to deliver about LA.
For a lot of people though, the move was just an excuse to make a few jokes.
Many decided his reason to leave Cleveland Cavaliers was down to a massive mistake made in the NBA Finals by former teammate JR Smith.
People also reckon fans in the Eastern Conference, where LeBron has been playing, will also be pleased about the switch.
And that the move will result in a lot more Lakers fans now.
Why does the move matter?
LeBron is arguably the greatest basketball player of all time, but has notably less Championship wins than the likes of Michael Jordan and Kobe Bryant to back that up.
His move to LA is set to help the team attract more star talent, giving the Lakers a greater chance of winning the Championship in 2019 - something they haven't managed since 2010.
One of them is Lance Stephenson, who famously blew into LeBron's ear during a playoff game, creating a meme and being immortalised in a Nicki Minaj lyric.
There are other reasons suggested for LeBron's move across the country though.
And a big one is Steph Curry.
The Cavs have been battling it out with Curry's Golden State Warriors over the past few years, with the two sides reaching the NBA Finals for the last four years in a row.
LeBron's team only managed to come out on top once, three years ago - when he was regarded as pretty much single-handedly winning the Cavs their first ever championship.
But the Warriors and Steph Curry have won the past two years.
If they win again next year, it would be the three-peat - something that has only been achieved by legendary Chicago Bulls and LA Lakers teams in the modern era.
Michael Jordan, Kobe Bryant... Steph Curry? That's something LeBron probably doesn't want to see while he's still playing.
And there's one other theory that fans have been floating, which has to do with LeBron's son.
LeBron's deal with the Lakers takes him to 2022, when he'll be 37.
LeBron James Jr, who's widely expected to become a professional player, will be 18.
And if the NBA drops a rule that says potential draft picks have to be at least one year removed from high school, he could be eligible.
Fans think that LeBron will return to the Cavaliers in 2022 as a free agent, to play alongside his son.
It might be a longshot, but it's the only thing getting Cavs fans through right now.
Follow Newsbeat on Instagram, Facebook and Twitter.
Listen to Newsbeat live at 12:45 and 17:45 every weekday on BBC Radio 1 and 1Xtra - if you miss us you can listen back here.