TRNSNT: Glasgow hero Gerry Cinnamon fills in for J Hus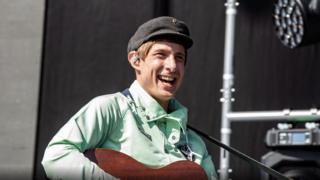 Twenty minutes before Gerry Cinnamon played the main stage at TRNSMT, his name echoed across Glasgow Green to the tune of KC & The Sunshine Band's Give It Up.
The catchy chant filled the air for hours as thousands of Scottish fans cheered their local hero through the biggest show of his career.
"I just tried to block everything out," he told BBC Radio 1 Newsbeat.
"The whole time I was thinking 'don't make a mess of this'."
After years of gigging and self-releases, Gerry has built such a name for himself that the "Cinnamon song" has become pretty unavoidable in Glasgow.
"I'll be in a shop getting my breakfast and 20 people will start chanting it at me, it's a bit of a nightmare," he laughs.
"There's no point trying to walk around Glasgow because there are just folks screaming at me."
Gerry performed on TRNSMT's second biggest stage in 2017.
Fans then started a petition to get him on the main stage, and organisers listened.
"Not since Oasis have I seen someone go on such a rapid trajectory around here," claimed festival director Geoff Ellis.
"He's gone from playing to 50 people to a point where he could easily sell out the Hydro [a 13,000 capacity venue in Glasgow]. We had to bring him back."
With those heady comparisons in mind, Gerry was an ideal substitute when J Hus pulled out of the festival after being charged with carrying a knife.
Gerry was moved up the bill to play before Wolf Alice, The Courteeners and one of his idols, Liam Gallagher.
"It's like a dream. It was beautiful mayhem." he said.
"I got told you can't sing in a Scottish accent and that I couldn't make an album on my own.
"Music's oversaturated by the X Factor and stuff.
"It's created a conveyor-belt industry of people who get dropped by their label at the end of the year.
"People are wising up to that so there's something happening with real guitar music now."
Gerry crowd-sourced the money to record his debut album, which came out in September 2017.
Erratic Cinematic spent a brief spell at number one in the UK singer-songwriter iTunes chart.
Despite finding success through TRNSMT and a series of upcoming sold out shows around the UK, Gerry wants to continue as an independent musician.
"About three years ago I decided to not take on anything to do with the industry, just do it all my self.
"The gigs are getting bigger and I'll give the people what they want.
"But I'm going to have to calm down a bit, go away for a while and just write."
Follow Newsbeat on Instagram, Facebook and Twitter.
Listen to Newsbeat live at 12:45 and 17:45 every weekday on BBC Radio 1 and 1Xtra - if you miss us you can listen back here.