XXXTentacion and the problem of separating art from its artist
By Imran Rahman-Jones & Sinead Garvan
Newsbeat reporters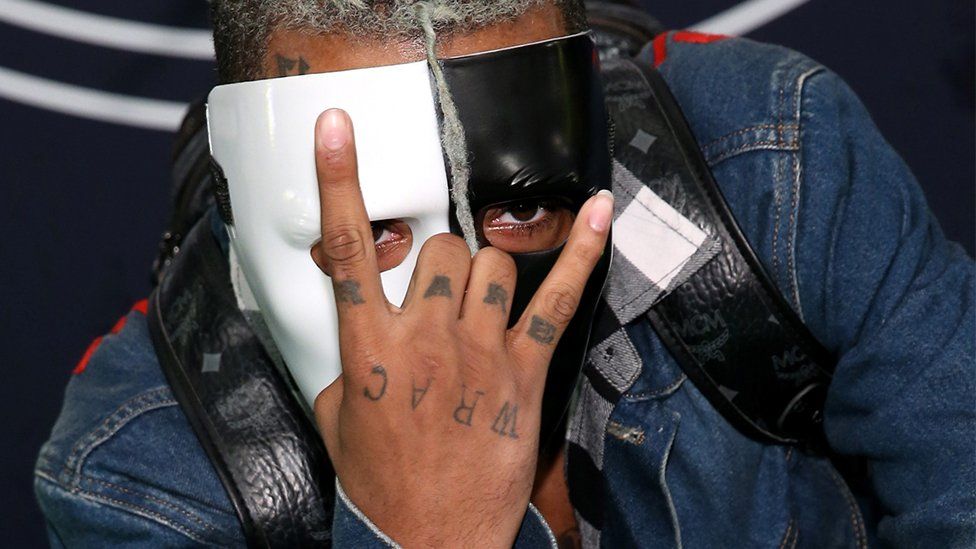 XXXTentacion has scored his highest position in the UK's Official Chart, with his track Sad climbing up to number five.
Radio 1 didn't play XXXTentacion on its Official Chart Show, even though he currently has three songs in the UK Top 40: Changes (22) Moonlight (17) and Sad.
The rapper has topped the US Billboard Charts since his death, amid a stream of tributes from huge stars including Kendrick Lamar, Kanye West and Meek Mill.
His personal life - which is maybe better known than his music - makes him extremely controversial.
Listening to his music, he appears to open himself up and pour his heart and mind into his lyrics until he has nothing left.
It's extremely dark - featuring themes of depression, loneliness, abandonment and suicide.
The genre Souncloud rap doesn't quite sum his sound up - it's probably better described as emo rap.
You can hear influences which include Linkin Park, Nirvana and his contemporary Lil Uzi Vert.
His latest video, released after his death, shows him attending his own funeral.
XXXTentacion, real name Jahseh Dwayne Onfroy, was also unspeakably violent, controlling and abusive.
He beat up his cellmate in juvenile detention because he suspected him to be gay.
A year later, he was back in jail serving time for armed robbery and aggravated battery.
Then in 2016, he was accused of abuse by his then girlfriend and faced charges which included aggravated battery of a pregnant woman and false imprisonment.
How should he be remembered? As a young, troubled genius taken too soon, or as a violent abuser who didn't deserve his fame?
It's an age-old question: Can we enjoy X's music while knowing what kind of person he was - can we separate the art from the artist?
Radio 1 never had the Florida artist on its playlist.
Spotify has gone back and forth on the issue.
In May, the company removed artists including XXXTentacion and R Kelly from its playlists under a new "Hate Content & Hateful Conduct" policy.
In June, it backtracked on the decision after public criticism from artists including Kendrick Lamar and 50 Cent.
After X's death, the streaming service started promoting his music, adding some tracks to RapCaviar, an influential playlist.
That again provoked a backlash from some users, who felt Spotify was capitalising on the artist's death.
The indecision shows that the Art v Artist battle still goes on - even after the #MeToo movement.
When X's team was approached by a New York Times journalist for comment over the Spotify decision in May, they replied back with a string of musicians who have historically been alleged of (and denied) abuse.
In an article about Onfroy's death, The Guardian makes an important distinction: "Unlike other artists, whose violence against women became known once they were already stars, it was Onfroy's incarceration for domestic violence that helped create his celebrity."
The debate was also ignited from an unlikely source: Louis Theroux.
The documentary maker tweeted about X's death (he lamented the loss of the art rather than the artist).
After appearing to consider his original tweet in more depth, he clarified his thoughts.
Thanks for yr thoughtful piece. My tweet about XXXTentacion was meant to acknowledge the sadness of the death of a 20yo. I don't believe compassion sd be reserved only for the righteous. But I hear all those who felt my comment did a disservice to victims of domestic violence. https://t.co/XG1RWXWFwB

— Louis Theroux (@louistheroux) June 25, 2018
In the end, is all we can really ask for? Deeper thought and reflection on who we put on a pedestal?
XXXTentacion's horrific actions are obviously unjustifiable.
But it's doubtful that these are what fans are identifying with - it's much more likely to be the gentle, emotional, open lyrics which are resonating.
It may take a long time to come to a conclusion. But, if nothing else, the question of art versus artist deserves a lot of thought.