TRNSMT 'didn't have to twist Arctic Monkeys' arm' for exclusive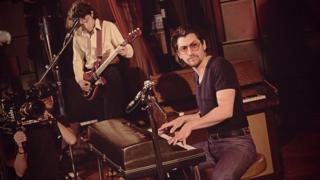 The organiser of TRNSMT Festival has told Newsbeat he didn't have to try too hard to book the Arctic Monkeys.
The band will close the first weekend of the event on Glasgow Green with their only UK festival set of 2018.
"They didn't want to do too many shows this summer so they've been picking and choosing… it's a great honour," said the festival's director Geoff Ellis.
"Nothing's easy in terms of booking bands… but I think they've always wanted to do it."
Arctic Monkeys have played at T in Park, which was also organised by Geoff Ellis' team, four times since 2006 - with three of them headline sets.
Despite Glastonbury taking a year off, the band had been linked to several UK festivals this summer including Reading and Leeds.
But Geoff, who didn't go into details of the deal with the band, says Scotland had enough pulling power to bring in Alex Turner and co.
"They've always had a good relationship with Scotland and Scottish audiences," he says.
"We didn't have to twist their arms to do it but you go through the general negotiations to a get headliner as you would do anyway."
TRNSMT first teased Arctic Monkeys fans that the band would be playing back in October with a graphic that included a glimpse of the band's logo.
They were later confirmed in January 2018, long before details of their latest album, Tranquillity Base Hotel & Casino, and UK tour had been revealed.
But organisers of the festival were worried that talk of them appearing in 2017 would have put them off agreeing to play.
"There was a rumour last year they were a surprise act," Geoff says.
"That came out of nothing. I think somebody saw an 'A' written on a flight case a said, 'Oh, it must be Arctic Monkeys'. I think they put two and two together and got 222.
"I thought at the time 'I hope that doesn't scupper them playing next year,' but we were absolutely delighted when they confirmed."
Now in its second year, TRNSMT has expanded to two weekends of music rather than just three days.
Liam Gallagher and The Stereophonics will headline the other days of the first weekend while The Killers, Queen and Adam Lambert will play on 6 July and 8 July.
While Geoff Ellis suggests "there's nothing to say" about the future of T in the Park, which was said to be taking a break while TRNSMT launched, he also says the new festival won't be expanding too much more in the future.
"We've got no plans on making TRNSMT a camping festival.
"For one, there's no space anyway. We are right in the heart of the city centre so it's not really feasible.
"Our intention is to carry on with TRNSMT.
"We've got to get through these weekends first and we'll talk about the future after that."
Follow Newsbeat on Instagram, Facebook and Twitter.
Listen to Newsbeat live at 12:45 and 17:45 every weekday on BBC Radio 1 and 1Xtra - if you miss us you can listen back here.