Love Island: Jack's ex among 12 new contestants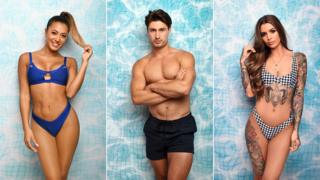 Love Island is due for a major shake-up as 12 new contestants join the show.
Among the new islanders are a singer, a student, an eyebrow technician - and the ex of current Love Islander Jack Fincham.
They will join the current 12 contestants in the reality TV show on Thursday.
Here's the lowdown on the new arrivals:
Savanna Darnell, 22, a singer and dancer from Sheffield
Savanna is looking for a guy who she can "be myself around" and "have a silly time with".
Her biggest turn off is people who smoke or guys with bad breath.
She says she's had three long-term relationships and her exes would probably describe her as "expensive".
Ellie Jones, 22, a customer service administrator from Kent
Ellie dated Love Islander Jack Fincham "on and off" for a while after they met in August 2016.
She says: "I don't know if he'll be angry or shocked [when he sees her] but we do get on so hopefully it won't be an issue."
She describes herself as the "typical girl next door" and says her normal type is "arrogant boys that love themselves" (Adam, anyone?)
Jack Fowler, 22, a semi-professional footballer from London
"When I'm in a room, people know I'm there," says Jack.
He says his type on paper is a "curvy" brunette girl but he also needs a connection.
His biggest claim to fame is that he was in a Tom Zanetti's music video.
Alex Miller, 28, a structural glazier from Essex
Alex could be about to bring some big drama to the Love Island villa.
He confesses he likes Dani Dyer- who is currently with Jack - and admits he wants to see "how coupled-up they really are when I go in".
Alex also says he's "more of a man" than the current males in the villa and describes himself as "pretty perfect".
Grace Wardle, 25, a hairdresser from London
Grace describes herself as a "positive person" and would like to meet someone who wants a long-term relationship.
She admits to using dating apps but says "you have to go through about 200 men to find one decent one".
Grace's biggest fear about going into the show is "just being seen as a funny one and not having anyone want to go on a date with me".
Kazimir Crossley, 23, a make-up artist from London
Kazimir says she fancies current islander Josh and her type on paper is "funny people".
She's been single for eight months and describes her last relationship as a "rollercoaster".
Her biggest claim to fame is doing the make-up of famous people and she's worked on Stormzy's music video.
Charlie Williams, 24, a tanning shop assistant from Bath
Charlie says she likes Love Island because the show is about "old-fashioned dating" without phones or social media.
Her usual type is "tall, dark and handsome" but in the villa she's going to "look more at people's personalities".
She says her most disastrous date was when she arranged to meet a guy but he never showed up.
Darylle Sargeant, 24, an eyebrow technician from Watford
"I can be quite loud, definitely very friendly and I feel like I can make friends wherever I go," says the 24-year-old.
She says her best attributes are her tattoos and her hair because she's "got lots of it and it's all my own".
Her biggest claim to fame is going on some dates with Dean Ralph - who is now on TOWIE.
Jordan Adefeyisan, 23, a model from Stockport
Jordan has never had a serious relationship and is looking for a girl with "good banter".
"I fancy Ellie, Megan and Georgia is fit as well. I know they are coupled up but it's all a game isn't it?" he says.
He describes himself as a "lads' lad" and says the best way to his heart is "money".
Charlie Brake, 23, a socialite from Chelsea
Charlie "doesn't really have to work" and is worried people will be jealous when they find out about his background.
He says everyone in his family is "well looked after" after his granddad founded a food distribution company which they went on to sell.
"My type on paper is blonde, blue eyes, petite and curvy. I've got my eye on Ellie and Megan," he adds.
Frankie Foster, 22, a business management student from Cheltenham
Frankie says he's "not the stereotypical lad in skinny jeans" and the current men in the villa "are of quite a similar mould".
"I'm quite honest, and I'm not really scared to say it. I normally back myself," he adds.
Frankie says he's looking to find someone in the villa that he "genuinely clicks with".
Dean Overson, 25, a car sales executive from Burnley
"I'm newly single and I just want to get out there and have some fun," says the 25-year-old.
He describes himself as an honest guy who can hold a conversation and rates himself as being "good looking".
"I'm in there to find love so I wouldn't be bothered about tearing any ties if I wanted to couple up with someone who was with someone else."
Follow Newsbeat on Instagram, Facebook and Twitter.
Listen to Newsbeat live at 12:45 and 17:45 every weekday on BBC Radio 1 and 1Xtra - if you miss us you can listen back here.