BDE: What is big dick energy and who really has it?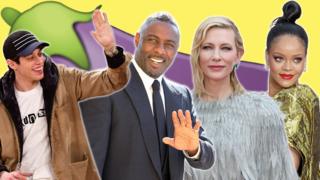 Welcome to the internet in 2018 - which has already given us people eating laundry detergent, a man asking if a butterfly was a pigeon and an audio version of #TheDress (it said "yanny", by the way).
It's now given rise to the newest and weirdest and most important question so far: Who has "big dick energy"?
By the way, physical endowment has nothing to do with it.
Let us explain. Because there is a lot to unpack here.
It starts with the whirlwind romance between recently-engaged couple Ariana Grande and Pete Davidson.
Allegedly, Ariana tweeted and then deleted a fan about her fiance's sizable - ahem - gift.
Fans - and internet users more generally - seem to universally agree that Pete Davidson exudes big dick energy, which can basically be described as a confidence: a swagger and a charisma which means you're comfortable being yourself.
It's said to have originated with Twitter user @imbobswaget, but has recently taken on a life of its own.
The Cut clarifies the definition: "It's not cockiness, it's not a power trip - it's the opposite: a healthy, satisfied, low-key way you feel yourself."
But who else has it?
Well, even if you don't actually have a penis, you still have to worry about whether you have big dick energy.
Unless you're Rihanna. She definitely has big dick energy.
So does Cate Blanchett. In fact, the whole cast of Ocean's 8 probably has it.
Harry Styles? Yes.
Idris Elba? For sure.
Beyonce? Yes - but apparently at Jay Z's expense.
Piers Morgan? Not so much.
Here are some more controversial ones. The Kardashian/Jenner men?
Beckham? Apparently not.
But the internet is way past thinking about what real people have BDE.
And then there's the even more out-there, conceptual stuff.
The debate rages on.
Follow Newsbeat on Instagram, Facebook and Twitter.
Listen to Newsbeat live at 12:45 and 17:45 every weekday on BBC Radio 1 and 1Xtra - if you miss us you can listen back here.