Volunteer: 'University suicide rates could be reduced'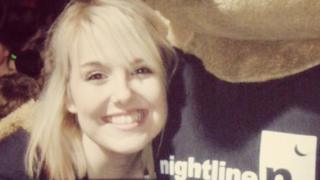 Jessica's student nights were different from most.
"A few nights every term when all my mates were off partying, I would be sneaking off to the Nightline office where I would do one of my 12 hour shifts."
Instead of the bar crawls she'd be answering the phone for the charity run by students for students.
She's been speaking as University suicide rates have now been revealed for the first time.
"It might be that they were looking for a taxi number," explains Jessica. "Or it might be that they're feeling homesick, stressed about something on the course, or worried about a relationship."
These figures from the Office for National Statistics show 95 students at universities across England and Wales took their own lives last year.
Jessica often speaks to people with suicidal thoughts herself.
"Personally, I always took confidence in the fact they were willing to talk about it, and that I was in a position to offer support by listening."
What these figures tell us is that on average the student suicide rate is lower than in the general population.
Although it has gone up over the past decade - it's still relatively low. That said - Jessica believes it's still a figure that can be reduced.
"I would be looking at University counselling waiting times, and whether they're actually employing university councillors, or are they offering something else?
"It feels a great privilege that I am in a position that somebody could trust me with what's going on for them, and that they have faith that they can ring up, speak to somebody, and feel better by when the conversation ends.
"We should all be supporting each other more."
You can find more help and information at BBC Advice.
Follow Newsbeat on Instagram, Facebook and Twitter.
Listen to Newsbeat live at 12:45 and 17:45 every weekday on BBC Radio 1 and 1Xtra - if you miss us you can listen back here.