Ariana Grande and political samples in music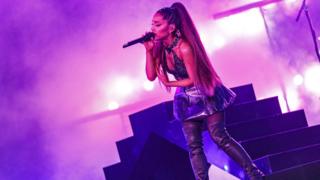 Ariana Grande's new song features a sample from an unlikely source - a protestor shouting at a politician.
The Light is Coming, featuring Nicki Minaj, is the second single from the 24-year-old's upcoming album Sweetener.
Produced by Pharrell Williams, it features a sample of a man saying: "You wouldn't let anybody speak."
The sample source was soon tracked down to a CNN archive clip from a meeting held by a senator in Pennsylvania in 2009.
According to articles from the time, the town hall meeting was with Senator Arlen Specter, who was confronted by voters unhappy with plans for Obamacare - a type of health insurance proposed by former US president Barack Obama.
The reason it was included on the track is unclear.
Another part of the archive footage, where Senator Specter says: "Wait a minute", was featured in N.E.R.D and Rihanna's Lemon, released last year.
Political samples in music have a long history - whether musicians are sampling politicians themselves or speeches by activists.
J. Cole - George Bush
In a moment which would definitely have gone viral on Twitter if the site had existed at the time, President George W. Bush, who led America before Barack Obama, struggled to remember a well-known phrase while speaking to a group of school children.
"There's an old saying in Tennessee," he said.
"I know it's in Texas, probably in Tennessee... that says fool me once, shame on - shame on you. Fool me you can't get fooled again!"
What he was trying to say was: "Fool me once, shame on you - fool me twice, shame on me."
The moment, awkward pauses intact, features on J. Cole's No Role Modelz, from his album 2014 Forest Hills Drive.
Bush isn't the only president featured in the rapper's music - 2012's Miss America opens with a sample from a famous John F Kennedy speech.
Coldplay - Barack Obama
Coldplay featured Barack Obama on their 2015 album A Head Full of Dreams.
But this wasn't a political speech - it was a clip of President Obama singing Amazing Grace at the funeral of Reverend Clementa C. Pinckney, a senator killed in a mass shooting at a historically black church in Charleston.
It has been called one of the most powerful moments from Obama's presidency.
Speaking to the Sun in 2015, lead singer Chris Martin said they chose it because of "the historical significance of what he did and also that song being about, 'I'm lost but now I'm found'."
Beyonce - Chimamanda Ngozi Adichie
Beyonce's single Flawless, released in 2013, sampled a speech by the writer Chimamanda Ngozi Adichie called: "We Should All Be Feminists".
While the sample isn't from a politician, many saw the feature as the first time Beyonce publicly embraced feminism as a political stance.
Chimamanda, an award-winning Nigerian writer, didn't speak about her inclusion on the track until 2016, when she spoke to Dutch publication de Volksrant about the amount of attention the sample brought.
"Literally every major newspaper in the world wanted to speak with me about Beyonce," she said.
Kanye West - Marcus Garvey
Kanye West is known for his sampling and his latest two album offerings were no different.
On his collaborative album with Kid Cudi, Kids See Ghosts, the track Freeee (Ghost Town Pt. 2) features a sample of an interview with Marcus Garvey - a prominent leader of the black nationalism movement in the US back in the early part of the 20th century.
Jamaican-born Garvey was a proponent of the pan-African movement and became an inspiration for some civil rights activists later in the 1900s.
The snippet talks about attaining "a true knowledge of yourself" - fitting with the song's theme of freedom from societal constraints.
Follow Newsbeat on Instagram, Facebook and Twitter.
Listen to Newsbeat live at 12:45 and 17:45 every weekday on BBC Radio 1 and 1Xtra - if you miss us you can listen back here.