Leave A Light On is the song that's everywhere right now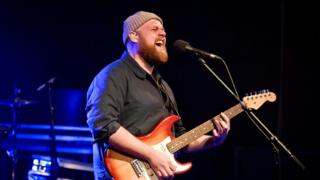 Singer Tom Walker called the Love Island producers "absolute legends" when his signature song was used on the ITV2 show.
Leave A Light On played out in the second episode as contestant Adam revealed which girl he wanted to couple up with.
It's another case of Tom's hit getting primetime exposure.
And after six months, the song has broken into the UK's Official Chart top ten for the first time.
It's been a slow burn for the track, which is currently number eight, after 13 weeks crawling up the top 100.
As well as huge radio play, the song was also helped after its use in an ad campaign for Sony.
Speaking to Newsbeat, Tom says the strangest place he's heard it so far was in a small bar in Croatia.
"I saw myself on the TV there. It was a bit odd and you try to make yourself incognito. Although I do turn it up to the full if it comes on in the car."
Leave A Light On was co-written with Steve Mac, one of the UK's most prolific - and successful - songwriters.
His other credits include Anne-Marie's 2002, Clean Bandit's Symphony and Ed Sheeran's Shape Of You.
"He's amazing and a genius," says Tom. "He works so quickly. He wrote a new song the other day in five hours yet he crafted it really well.
"He knows what's good and bad and you learn a lot off him."
Leave A Light On has been a success across Europe this year, even getting to number one in France.
Tom admits he hasn't done a version in another language yet, joking that he's only just grasped learning the English language.
After appearing in the Sound of 2018 longlist, the singer now has a busy summer ahead, playing 150 gigs and a total of 35 festivals. As a result, he says he's in no rush to get his debut album finished.
"I'm doing as much as I can about the album. I'll get it done by the end of the year... maybe the start of next year.
"There's no pressure on it. There's plenty of time. People can just wait."
Follow Newsbeat on Instagram, Facebook and Twitter.
Listen to Newsbeat live at 12:45 and 17:45 every weekday on BBC Radio 1 and 1Xtra - if you miss us you can listen back here.