Parklife festival remembers Manchester victims with tribute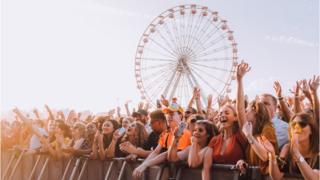 Manchester's Parklife festival paid tribute to the 22 people who lost their lives in the terrorist attack at an Ariana Grande gig last May.
The Manchester Survivors Choir, made up of those who survived, sang their charity single, A City United.
It's a collaboration with the Manchester band, Prose, made up of three friends who blend hip-hop with acoustic guitars.
Their performance was met with cheers of: "Oh Manchester is wonderful".
The city's mayor Andy Burnham also joined them on stage.
Speaking to the crowd as he introduced the collective he said: "The events of 22 May 2017 will always be on our minds and the families who lost loves ones will forever be in our hearts.
"For me, nothing captures how we felt at that time than the song that you're about to hear."
The lyrics of A City United include: "Manchester just lost its sound, the kids, the kids, that can't be found.
"And there'll never a be a day that goes on where I'll say I won't be carrying this weight in my heart.
"Remembering where I was when things changed.
"When the world started falling apart."
The collective wore bees on their t-shirts, a symbol of the resilience of Manchester and had numbered balloons on stage marking the 22 victims.
Last month, Ariana Grande posted a picture of her new bee tattoo in the week the city marked one year since the terror attack.
Thousands of people have also had a bee inked on their bodies as an act of remembrance.
Follow Newsbeat on Instagram, Facebook and Twitter.
Listen to Newsbeat live at 12:45 and 17:45 every weekday on BBC Radio 1 and 1Xtra - if you miss us you can listen back here.