Emmerdale's Isobel Steele on being told to 'flash a bit of flesh'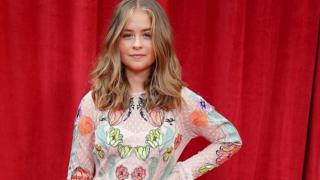 Emmerdale's Isobel Steele says she's been blown away by the response after The Sun told her to "flash a bit of flesh".
The paper criticised the 17-year-old's decision to "cover up from head to toe" at The British Soap Awards, where she was named best young actor.
"There's been people from all of the soaps saying they think it's out of order," Isobel tells Newsbeat.
The Sun, which was widely criticised online, has apologised.
Reaction to the paper was pretty quick.
The night had been going brilliantly for Isobel, who plays Liv Flaherty.
"When they actually call your name out it becomes really real and it's really incredible. It's a tough category," she says.
Her parents had been watching the show on telly and were apparently "screaming their heads off".
"I got texts from all my family. My phone was blowing up. I think the show caught me on my phone for a second when we were live, which looked really bad - but it was just because my phone was going off like mad, I had to sort it out," says Isobel.
She was heading home following the after party when someone tagged her in The Sun's article.
So she started tweeting.
Support quickly followed.
Isobel says she wasn't offended that someone didn't like her dress - she was trying to make a point.
"It's not really about me," she says.
"I was just making the point about the whole article being written full stop. People have a nice night, and then they wake up and can feel really rubbish about what they wore."
Isobel believes the response has been a really "positive outcome".
The "flash a bit of flesh" comments were made by The Sun's Tracey Lea Sayer - and Isobel says it's "unfortunate" the piece was written by a woman.
She says the journalist hasn't apologised personally to her - but there is one on what appears to be her Twitter account.
A spokesman for The Sun told Newsbeat: "The article was taken down as soon as we realised our mistake and we are taking steps to ensure this can't happen again.
"As an organisation we got this wrong and we apologise, not least to Ms. Steele herself."
Isobel admits the article "did dampen the night slightly" but isn't dwelling on it.
"I've still won best young actress. I'm really pleased and everyone had a great night so hopefully we can put this behind us and focus on the night rather than what we were wearing."
Follow Newsbeat on Instagram, Facebook and Twitter.
Listen to Newsbeat live at 12:45 and 17:45 every weekday on BBC Radio 1 and 1Xtra - if you miss us you can listen back here.