Bestival to provide drug testing in attempt to prevent deaths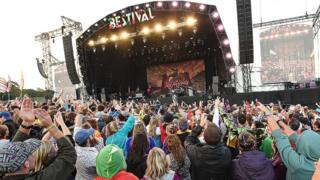 Bestival has announced it will offer drug testing for festival-goers at this year's event.
People arriving at the Dorset festival will be able to test their drugs safely to reveal its strength in a bid to reduce deaths.
In May this year two people died at Mutiny festival in Portsmouth after taking drugs.
Their deaths were blamed on a "dangerous high-strength or bad-batch substance" by festival organisers.
"Bestival strongly advises festival goers to avoid taking any illegal substances," says a Bestival spokesperson in a statement.
"However, harm reduction and customer welfare are our priorities, so we have made the decision to bring The Loop onboard to offer drug safety testing onsite, giving people the opportunity to make informed choices."
The Loop, a not-for-profit company, has previously offered on site drug testing at events like The Warehouse Project and Parklife Festival.
In 2017, 25-year-old Louella Michie died at Bestival after taking drugs.
Local police support Bestival taking action to attempt to ensure the safety of people attending.
"We take the issue of drug use and supply very seriously and at last year's event, officers arrested 24 people for possession with intent to supply drugs," says Superintendent Mike Rogers of Dorset Police.
"Public safety continues to be paramount and we are exploring all safety options with our partners to ensure the event is a safe environment for all."
But not all festivals are on board. Plans for front of house drug testing at Reading & Leeds festivals have recently been scrapped amid concerns about its impact.
"Front of house testing sounds perfect, but has the ability to mislead, I fear," Festival Republic boss Melvin Benn, told The Independent.
"Determining to a punter that a drug is in the normal boundaries of what a drug should be takes no account of how many he or she will take, whether the person will mix it with other drugs or alcohol.
"Nor does it give you any indicator of the receptiveness of a person's body to that drug."
Instead, Reading & Leeds festival will run back of house drug tests to help the people running the festival know what drugs may be on site without projecting the assumption that taking drugs is safe.
"We are focused on back of house testing at events which gives us live information on what is in circulation onsite, to send full onsite warnings, without commenting to individuals about what they are taking," he added.
In 2016, smaller UK festivals such as Secret Garden Party trialled drug testing for people at festivals.
"A remarkable percentage of the people who had their substances tested there chose to throw them away," Secret Garden Party organiser Freddie Fellows said at the time.
Follow Newsbeat on Instagram, Facebook and Twitter.
Listen to Newsbeat live at 12:45 and 17:45 every weekday on BBC Radio 1 and 1Xtra - if you miss us you can listen back here.