Shawn Mendes on the secrets behind his third number one album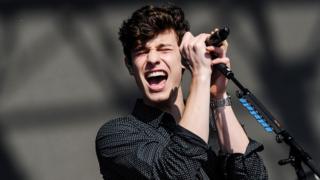 Shawn Mendes has become the third youngest solo artist to achieve three number one albums on the Billboard chart.
He follows in the steps of Justin Bieber and Miley Cyrus.
Speaking to Newsbeat the 19 year old said: "It's overwhelming and it's impossible to comprehend, I'm just really happy."
The Canadian singer says the collaboration on the album with his idol Ed Sheeran means the most to him.
"That was the very first song that was sent to me for the album and he sent it to me and I fell in love."
Shawn Mendes has sold 142,000 copies of his new album which Billboard says is the fifth-biggest sales week of the year.
Post Malone, Jason Aldean, J. Cole and Justin Timberlake are the only artists to surpass the Canadian in album sales this year.
Mendes previously claimed No. 1 spot on the charts with his albums Handwritten (2015) and Illuminate (2016).
Shawn Mendes has looked up to Ed Sheeran for years and is still stunned that he has collaborated with the four-time Grammy award-winning artist.
"My idols are the nicest people in the entire world.
"And even though they're my friends, I still call them my idols because they truly are and it's just incredible man, I'm so lucky.
"I finished writing with him and that was it. You can feel him inside of it."
Ed Sheeran has wrote multiple songs with, and for, artists including the likes of One Direction, Justin Bieber, Olly Murs, Taylor Swift and Rudimental.
"I'm just really happy it got sent to me because I think that one will be one that stays for a long time.
"Everything is kind of like 'I can't believe this is happening right now for me.'"
At BBC Radio 1's Biggest Weekend in Swansea, when asked why the new album is self-titled, the singer said: "How do you know when you're going to be the most you?
"Am I going to be the most me right now at 19 or the most me at 50? I don't know.
"So if this is the most Shawn Mendes I'm ever going to be, I want to capture it."
The star who gained a large following from posting song covers on the video-sharing app Vine - says his experience has been overwhelming.
But there have been some tough times on his journey.
"The learning curve is kind of huge and it's just about keeping what's important in mind - seeing the support from the fans.
"And really finding the moments to enjoy what you do and then let the things that are hard be little blips."
Follow Newsbeat on Instagram, Facebook and Twitter.
Listen to Newsbeat live at 12:45 and 17:45 every weekday on BBC Radio 1 and 1Xtra - if you miss us you can listen back here.