Mountain bike champion places third after chain snaps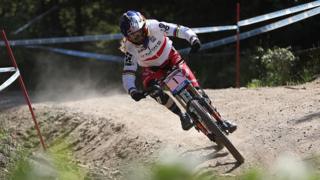 Cuts, grazes, bruises and sprains; they're all things you're likely to expect as a downhill mountain biker.
But what you don't expect is for your bicycle chain to snap just as the race begins like Rachel Atherton's did.
After qualifying in first position, the five-time world champion was set to win the second series of the Mountain Bike World Cup at Fort William on Sunday.
Despite a "freak accident" which saw Rachel's chain snap and a crash she still finished third.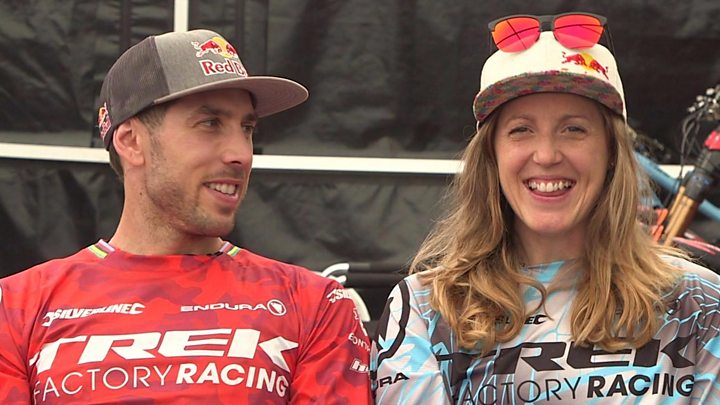 "I'd qualified in first position, so feeling really strong and really ready to race and hopefully take that win," Rachel told Newsbeat.
"Came out of the start gate, last rider on the hill and just snapped my chain, which is a freak accident really for a mountain biker.
"You're a world cup racer and something like that happens, you're just kind of a bit shocked and you're not really sure what to do."
Even though it was "devastating", Rachel said she tried "to push on and make the most of the situation" because she'd won at Fort Williams many times in the past.
"I knew I could win and I knew I could be a lot faster than the other girls," she said.
"So when I snapped that chain, I just thought you know what, I'm just going to have to get on with it, push as hard as I can, really work the bike."
After recovering from the chain break, Rachel crashed in a particularly tricky section of the course.
Still, she "went for it as hard as I could", putting her in third place by the end of the race.
Not getting her win was "really hard to process", but getting third place with no chain and a crash has instilled even more confidence in Rachel about her abilities.
"It's pretty mind blowing really for a bike to have no chain and a crash and still come third, so I guess I'm pleased," she told Newsbeat.
"I think the confidence that that's given me in my bike riding and my ability to ride the bike is pretty cool.
"I feel good and we're really at the start of the season...I think it's going to be an exciting season."
Rachel's brother, Gee Atherton, who was also competing came 14th.
Follow Newsbeat on Instagram, Facebook and Twitter.
Listen to Newsbeat live at 12:45 and 17:45 every weekday on BBC Radio 1 and 1Xtra - if you miss us you can listen back here.