The other times Drake has had beef with rappers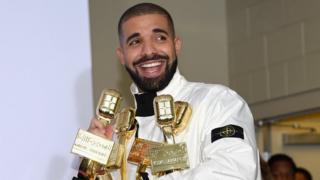 From back and forth Twitter feuds, alleged fights in nightclubs to an extensive list of diss tracks, Drake is no stranger to rap beef.
The Canadian has once again found himself caught up in a spat, this time with 41-year-old rapper Pusha-T.
Drake recently released a diss track called Duppy Freestyle, to which Pusha T responded days later with The Story of Adidon.
Here are some other Drake rap feuds you may have forgotten about.
June 2012: Drake and Chris Brown
Drake was romantically linked to Chris Brown's ex-girlfriend Rihanna after the two artists released Take Care together.
So when the two rappers ended up in the same New York club later that year it didn't end well.
The story goes that Drake sent Chris Brown a note and a fight broke out.
That was never confirmed but in April 2013, in an interview with East Village Radio, the Canadian rapper said about Chris Brown:
"His insecurities are the fact that I make better music than him, that I'm more popping than him.
"And that at one point in life the woman that he loves fell into my lap."
December 2012: Drake and Common
In late 2012, Common released his ninth studio album entitled The Dreamer/The Believer.
The album featured 12 songs but it was one track in particular that gained the attention of Drake fans.
The fourth song - Sweet - was criticised for taking subliminal shots at the Canadian, indirectly calling him soft.
During a live show in Las Vegas, Drake responded: "If Common got something to say, say it to my face."
After he confirmed the song was about Drake in a radio interview, Drake took the opportunity to respond on the track Stay Schemin.
But rapper Common wasted no time levelling the playing field. He remixed the track Stay Schemin, calling Drake out by name.
2013: Drake and Tyga
Drake and Tyga were once both under the music label YMCMB.
Back in 2009 the pair featured on YMCMB's song Bedrock together and a few years later in 2013, Drake's song The Motto.
But all was not as it seemed.
In an exclusive interview with Vibe magazine, Tyga said his relationship with Drake was forced.
"I don't like Drake as a person. He's just fake to me.
"We were forced together and it was kinda' like we were forcing relationships together."
Drake responded by liking Tyga's ex-girlfriend Blac Chyna's Instagram photos.
Compton born rapper Tyga went on to release Make It Work afterwards, which many say was aimed at Drake.
July 2015: Drake and Meek Mill
"Stop comparing Drake to me too... He don't write his own raps!"
It all started with a tweet in which Meek Mill claimed Drake had used a ghost writer called Quentin Miller on his album.
Funkmaster Flex, an American hip-hop DJ supported Meek Mill's claims by releasing audio of Quentin Miller performing soon-to-be Drake songs.
Drake released Charged Up, a song in response.
Then four days later came another diss track aimed at Meek Mill, about his relationship with Nicki Minaj and who was in control.
"Is that a world tour or your girl's tour?"
The next day, Meek Mill released his response, Wanna Know, revealing another ghost written track by Quentin Miller.
In fact, Drake has had that many run-ins with other rappers, that many often forget who the Canadian rapper has had a spat with in the past.
Joe Budden, P. Diddy, Kanye West, Kid Cudi and Ludacris are just a few other artists who Drake has had differences with.
Follow Newsbeat on Instagram, Facebook and Twitter.
Listen to Newsbeat live at 12:45 and 17:45 every weekday on BBC Radio 1 and 1Xtra - if you miss us you can listen back here.