Tom Holland fan recreates GQ photoshoot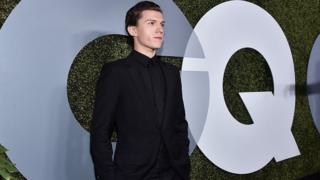 A 19-year-old photographer has gone viral on social media after recreating Tom Holland's 2017 GQ photoshoot.
In a series of four photos, Tori Bernal from Arizona, mimics the same poses and wears almost identical clothing to the Spider-Man star.
She described it as "my version of fan art" and has been praised online for her spot-on imitation.
Tori uploaded a picture of her and Tom two days later where he can be seen holding a photo from the shoot.
"Did you hire a creative staff for this?" asked a Twitter user after seeing the viral pictures.
But it turns out all you need to pull off an amazingly accurate recreation of a celebrity photoshoot is a set of willing family members.
"If you count my mom and sister as creative staff!" Tori tweeted. "They are my team!"
Tori shared the side-by-side images on her Twitter and Instagram, asking people to retweet and tag Tom Holland so he could see them.
Her outfits, location and poses almost perfectly match Tom Holland's, but Tori tweeted she had to "get a little creative with the clothes", using pyjamas for one shot.
People on Twitter shared how impressed they were with Tori's efforts.
And others shared her wish that Tom Holland would notice what a great job she'd done.
Two days after her project went viral with over 140,000 likes on Twitter, Tori's prayers to meet Tom were answered.
She uploaded a picture of her and Tom Holland with the actor holding up one of the pictures from her shoot.
"This happened," she wrote on Instagram.
"And YES, he has seen my photos."
Follow Newsbeat on Instagram, Facebook and Twitter.
Listen to Newsbeat live at 12:45 and 17:45 every weekday on BBC Radio 1 and 1Xtra - if you miss us you can listen back here.