Millie Bobby Brown wants DiCaprio to star in Stranger Things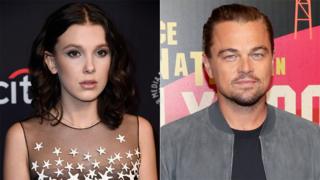 Millie Bobby Brown wants Leonardo DiCaprio to star in Stranger Things.
The 14-year-old actress says she's already made a storyline in the sci-fi drama for the Titanic star.
Millie shot to fame in the Netflix series in which she plays Eleven - a young girl with psychokinetic abilities.
When asked which celebrity she'd like to have a guest role, she said: "Leonardo DiCaprio. Leonardo is Eleven's long-lost brother."
She added: "I have already made a storyline. Leo, if you want to be in Stranger Things, here's the contract."
The stars of Stranger Things are currently filming series three of the hit show.
Producer Shawn Levy has hinted it will be set during the summer of 1985 - a year after the conclusion of season two.
Writers the Duffer brothers have also suggested the new episodes will touch on the issue of its young characters reaching puberty.
Millie says it's been "amazing and wonderful" to be back filming and had good things to say about the writers.
"The Duffer brothers and Shawn Levy and Netflix really know how to grow with the characters so it's very good.
"They know how to write to us and how we're growing and our voices are changing and our mindsets are changing and we are maturing every day."
Noah Schnapp, who plays Will Byers, has said fans can expect "excitement" in the next series.
The episodes will bring a mix of "playfulness" and scary scenes, he added.
The 13-year-old said he'd like Tom Hanks to have a guest role in the show.
He predicted the actor's character would form a partnership with police chief Jim Hopper - played by David Harbour.
Follow Newsbeat on Instagram, Facebook and Twitter.
Listen to Newsbeat live at 12:45 and 17:45 every weekday on BBC Radio 1 and 1Xtra - if you miss us you can listen back here.