New talent fund generates millions of pounds for British music industry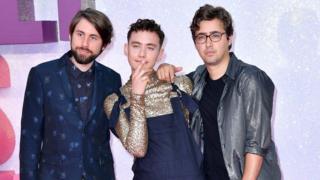 A music fund to support new talent has generated more than £13 million for the British Music Industry.
Acts including Years & Years, Little Simz and Bear's Den have all benefitted since the scheme was set up in 2013.
The Momentum Music Fund gives grants of between £5,000 and £15,000 to help develop artists who are based in the UK.
Nearly half of the acts who benefitted are BAME (Black, Asian and minority ethnic).
The scheme was set up by the PRS Foundation which is a charity that funds new music and talent in the UK alongside the Arts Council England.
The grants can be used for anything an emerging artist may need including the cost of touring, equipment, recording or publicity.
It says that £13 million has been generated and put back into the music industry by artists doing things like touring and selling albums and merchandise.
Years & Years applied for a grant to go on tour before they were signed.
"We were at a point where we'd reached the end of the line in terms of what we could do with our own resources," says Martha Kinn, the band's manager.
"We had a real vision. We had a bit of a fan-base forming; they [the band] started to write amazing songs.
"We wanted to keep going independently. I remember the question (in the Momentum form) 'where do you see the band in 3 years time?' We achieved that and more."
The funding allowed them to go on tour, build their fan base and work on their sound before they got signed by Polydor.
Little Simz used her grant to travel to Canada to help build her profile internationally, as well as to help her put out her debut album, A Curious Tale of Trials + Persons, in 2015.
"As an independent artist and label owner the Momentum Music Fund is a major helping hand for myself and my team," she says.
"We are working to inspire and to show a new generation of artists from the UK that they can make an impact on a global scale without having to sign to a major record label.
"Funding like this is a huge part of making the journey to the end goal possible."
It is a similar story for Bugzy Malone. He used the grant to help record and promote his second E.P, Facing Time, which went to No.6 in the UK album charts.
"It offered me a solid foundation and gave me an extra confidence in myself. It made such a difference people backing us," he says.
There is a huge demand for these grants, £45 million has been requested since 2013 and more than £2.5 million awarded.
But Vanessa Reed who is the Chief Executive of PRS Foundation says this is one of the most successful programmes they have ever run.
"I look forward to growing this fund over the next five years with new and existing partners who share our passion for supporting diverse talent and sustainable careers."
Follow Newsbeat on Instagram, Facebook and Twitter.
Listen to Newsbeat live at 12:45 and 17:45 every weekday on BBC Radio 1 and 1Xtra - if you miss us you can listen back here.