Royal wedding 2018: Facts to impress on Harry and Meghan's big day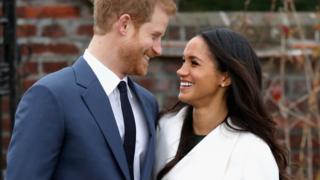 So, unless you've been living in a dark cave for the last year, you probably know Harry's about to marry Meghan, right?
Well, that's where you'd be wrong.
Because when the person in charge of the ceremony reads out their names, Harry and Meghan won't be the first ones you hear.
But that little nugget is just one of our 'how to impress your mates' gems that you can drop into the conversation as you watch or listen with friends.
"Take thee Rachel"
For when your mate goes: "OHMAGOD HE'S SAID THE WRONG NAME!!!!"
No, Prince Harry won't be doing a Ross from Friends.
Meghan's first name is actually Rachel, although she uses her middle name professionally and it's the name most people know her by.
So it's likely Harry will refer to her as Rachel Meghan during the church service.
"Take thee Henry"
For when your friend goes: "Whoops. They've got Harry's name wrong now."
The sixth-in-line to the throne's full name and title is Prince Henry Charles Albert David of Wales, but we all know him as Prince Harry.
That will probably change on the morning of the wedding as the Queen normally gives a dukedom to male members of the Royal family when they get married.
A lot of people are betting that Harry will be given the title "Duke of Sussex".
"Princess Meghan"
For when your mum goes: "Princess Meghan is my new favourite royal."
While technically Meghan will be a princess because she's married to a prince, she's less likely to be known as Princess Meghan.
It's been announced that Prince Harry has been given a dukedom and his titles will be Duke of Sussex, Earl of Dumbarton and Baron Kilkeel.
It means Meghan will become Her Royal Highness The Duchess of Sussex once they're married.
"Shame her mum didn't give her away, would have been a first"
Prince Charles is walking Meghan down the aisle, now that we know her dad can't make the wedding because of his ill-health.
Before we knew Harry's dad was stepping in, there was a lot of discussion on who could give Meghan away instead.
One of the contenders was her mum, Doria Ragland.
So if your dad goes: "Shame that didn't happen, would have been a first for a royal wedding," - your dad is wrong.
Queen Victoria walked two of her daughters - Princesses Helena and Beatrice - down the aisle after the death of her husband, Prince Albert.
Let us know if our facts helped you impress your nearest and dearest on royal wedding day. Good luck!
Follow Newsbeat on Instagram, Facebook and Twitter.
Listen to Newsbeat live at 12:45 and 17:45 every weekday on BBC Radio 1 and 1Xtra - if you miss us you can listen back here.