This Is America: YouTuber defends 'women's edit' of Childish Gambino hit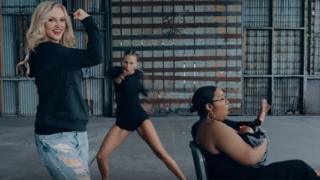 A YouTuber who created a "women's edit" of Childish Gambino's This Is America video says it's been "misinterpreted".
Nicole Arbour describes her post as a "female positive/empowerment video".
She's faced strong criticism online - including accusations of belittling "black pain" and "stealin[g] our culture for money".
Others told her to "stop cheapening black art and creativity" - but Nicole says people are "wrongly portraying this as white vs black".
Donald Glover's original This Is America music video was released on 5 May and was praised for its commentary on issues like racism and police violence.
One week later, Nicole posted her own version online.
Many people have argued that her video makes light of "black pain and oppression", as well as "editing out the race issues in favour of the feminist issues."
Nicole responded on social media, saying "this was not the intent or theme at all".
"It was created with every intention of bringing a light to women's experiences," she said.
"It was a tongue in cheek way to give additional glory to what I believe is the most impactful piece of art in recent years.
"Due to the sensitive nature of the original, I understand why some people are wrongly portraying this as white vs black," she added.
Nicole ended her statement with a call for others to "create their own version of this video".
"Through this honesty, I believe we can discover a new level of empathy and understanding for each other."
This isn't the first time a Nicole Arbour video has caused controversy.
In 2015, she uploaded "Dear Fat People", which was called out for fat-shaming.
"That video was made to offend people," she said at the time, addressing the video on US chat show The View.
"It's just satire, I'm just being silly."
Follow Newsbeat on Instagram, Facebook and Twitter.
Listen to Newsbeat live at 12:45 and 17:45 every weekday on BBC Radio 1 and 1Xtra - if you miss us you can listen back here.