Abortion referendum: 'No woman wants to have an abortion'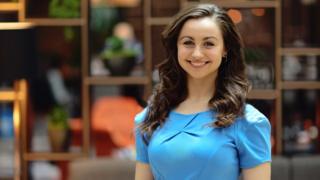 "We really can do better than abortion in our country," says Katie Ascough.
She used to be University College Dublin's Students' Union President but is now campaigning across Ireland as the country prepares to vote on whether to legalise abortion.
"I don't think any woman wants to have an abortion," she says. "Women who have abortions often they feel like there isn't another choice.
"Because it's either an abortion or their job - or continuing with college.
"I would say no woman should ever have to feel they cannot work, live and love to the best of their ability because of their unborn child."
The abortion referendum
On 25 May, Irish people get the chance to vote on whether they want to keep the law that makes abortion illegal, or repeal it.
Ireland has a near-total ban on abortion, with terminations only allowed if there is a substantial risk to the life of the mother.
The maximum penalty for accessing an illegal abortion is 14 years in prison.
The law is all rooted in the Eighth Amendment to the Republic of Ireland's constitution, which gives the unborn child the same right to life as the mother.
Voters will choose "Yes" if they want to repeal this amendment, or "No" to keep it.
Katie, 21, says keeping the Eighth Amendment is the only answer, but that it is a difficult choice for some voters.
"There're a lot of people caught in a very difficult place where they want to see abortion for some cases, but not abortion on demand," she tells Radio 1 Newsbeat.
The Irish government is proposing that if people vote to repeal the Eighth Amendment, women could access a termination within the first 12 weeks of pregnancy - something that Katie describes as "extreme".
After 12 weeks, abortions would only be allowed if there is a risk to a woman's life - or a risk of serious harm to the physical or mental health of a woman - up until the 24th week of pregnancy. Terminations would also be permitted in cases of fatal foetal abnormality.
'We're not supporting women in Ireland'
Katie says the alternative to legalising abortion is better funding and support for pregnant women.
"Things like financial support during pregnancy, perinatal hospice care for terminally ill children and better childcare," she says. "In most universities, childcare isn't being funded anymore. The answer isn't to import England's problem.
"We haven't been talking about adoption services, childcare, homeless pregnant women - if there was a political will, we could change that."
Last year, Katie was surrounded by controversy. Just months after being elected student president of University College Dublin, students voted to impeach her after she removed information about accessing abortion from student pamphlets. She says she was following legal advice from the union's lawyer.
"I did feel that I was shut down on freedom of speech," she tells Newsbeat.
**WARNING: DETAILS BELOW MAY BE UPSETTING TO SOME READERS**
The miscarriage that made up her mind
Katie says that one key experience helped form her opinion on abortion - when she was 15, her mother had a miscarriage at home and she was there.
"It was a very unique circumstance.... I was asked if I wanted to meet my baby brother and I said 'yes'," she says.
"I'll never forget holding him in the palm of my hand and looking into his face. I would have already considered myself to be pro-life but I was shocked to see how developed he was at just 13 weeks. He had creases on his knuckles, he had fingernails - he was a perfect human being. Just very small.
"To me that really opened my eyes up to this issue, really this made me understand this was a human life."
Repeal campaigners argue that a Yes vote is "for women's safety, for a just society, for a fairer Ireland," and would be "a vote for compassion".
Read one why one woman's experience of abortion has led her to campaign to repeal the Eighth Amendment.
For more help and information on abortion, you can find it on the Radio 1 Advice pages.
Follow Newsbeat on Instagram, Facebook and Twitter.
Listen to Newsbeat live at 12:45 and 17:45 every weekday on BBC Radio 1 and 1Xtra - if you miss us you can listen back here.