Abortion referendum: 'Ireland made me feel like an exile'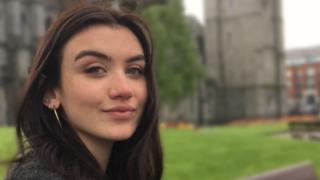 "I was terrified and I was really young," says Lucy, recalling her abortion.
She found out she was pregnant two years ago and eventually decided to have a termination.
But because she lives in Ireland, where abortion is illegal, she had to travel on her own to England for the procedure.
"When I had an abortion I didn't know anyone else that had had one.
"You literally feel like an exile - that you're doing the wrong thing.
"You have to go away and your country doesn't help you."
Lucy's now campaigning to legalise abortion in Ireland because of her experience.
Ireland's abortion referendum
On 25 May, Irish people get the chance to vote on whether they want to keep the law that makes abortion illegal, or repeal it.
Ireland has a near-total ban on abortion, with terminations only allowed if there is a substantial risk to the life of the mother.
The maximum penalty for having an illegal abortion in Ireland is 14 years in prison.
The law is all rooted in the eighth amendment to the Republic of Ireland's constitution, which gives the unborn child the same right to life as the mother.
Voters will choose "Yes" if they want to repeal this amendment, or "No" to keep it.
'It's not really spoken about'
Lucy is now in her early 20s. When she found out she was pregnant, her doctor gave her advice on pregnancy but couldn't offer any alternative as health professionals can be prosecuted too.
"I didn't know what I could or couldn't ask," Lucy says. "I was told all about my options for pregnancy and I went home.
"In Ireland it's not really spoken about. Termination is such a difficult thing to do here because it's not legal and so I really thought about that decision but I knew that was what was best for me."
Lucy started searching online about how she could go about getting an abortion, deleting her internet history afterwards so no-one would suspect she was pregnant.
'The longest few weeks of my life'
Lucy was born in England so was able to access the NHS, and an abortion, at a clinic in Brixton, south London, though had to pay for her for travel to get there.
And even after everything was set up, Lucy was had to to wait another six weeks to have a termination as her passport had run out and it took time to renew it.
During that time, she began to develop symptoms of pregnancy, which she says she had to hide from her family and friends.
"It was horrible. It was honestly the longest few weeks of my life," she tells Radio 1 Newsbeat.
"I couldn't sleep because I knew I was pregnant and I used to put a towel at the bottom of the door when I was sick every morning.
"My body was going through the first trimester of pregnancy which ideally I would have been able to terminate four weeks previously."
'Terrified of being judged'
Lucy says she kept it secret and tried to carry on with normal life whilst she waited, because she was "terrified of being judged for not wanting to have a baby".
She did tell the man who she became pregnant with, and says he was "amazing", but they weren't in a relationship and she felt it was her "burden to bear".
Eventually, the passport arrived. Lucy arranged to have the abortion in the morning at a clinic in London so she could fly to England and back in one day.
"I remember getting up ridiculously early in the morning and sitting in the airport and not even knowing if I could eat breakfast because I was having surgery later."
"I was waiting for somebody to put their hand on my shoulder and stop me. I just wanted to get on that plane and get it done."
After the procedure, she says she saw other women being met at the clinic by partners, friends and family.
She had to travel back to the airport on her own: "I stood on that train for an hour because there was no seat, bleeding after having just had surgery."
'There's such a stigma and a shame in Ireland'
Campaigners say around 12 women and girls travel from Ireland to the UK every day to have an abortion.
Treatment, transport and accommodation combined can amount to around £1,200.
Since her experience, Lucy has campaigned to repeal the Eighth Amendment, because she doesn't want other women don't have to go through the same thing.
"It's not an easy thing to do. I was so scared and I didn't have anybody that I could turn to for help. It was terrifying, exhausting and incredibly emotional."
Anti-abortion campaigners argue there is an alternative to legalising abortion which is better funding and support for pregnant women.
Read why one woman is campaigning to save the Eighth Amendment.
For more help and information on abortion, you can find it on the Radio 1 Advice pages.
Follow Newsbeat on Instagram, Facebook and Twitter.
Listen to Newsbeat live at 12:45 and 17:45 every weekday on BBC Radio 1 and 1Xtra - if you miss us you can listen back here.