Eurovision: How Greece's pop star helped Cyprus become favourite to win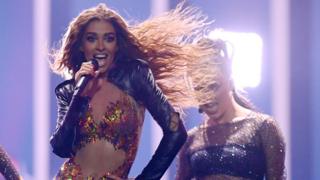 "There is nothing wrong with being sexy," says Cyprus' Eurovision entry Eleni Foureira.
Her three-minute performance of Fuego has enough high intensity choreography and hair flicking to make even Beyonce proud.
Eleni says the song is about female empowerment and she wants "to show the fire that women have inside them".
The singer is currently the bookies' favourite to win the 2018 contest.
Cyprus has never won the Eurovision Song Contest but has made a huge effort to go the distance with Fuego (meaning "fire" in Spanish).
Firstly, they enlisted Eleni from Greece, where she is one of the country's biggest pop stars.
She was born in Albania and fled with her family in the 1990s due to civil war.
"We started a new life from zero in Greece," she says. "It was so hard and difficult for me and my parents.
"I had a lot of dreams and always wanted to be successful."
She got into theatre when she was a teenager and eventually joined a girl group called Mystique.
They split in 2009 and Eleni went on to have a solo career with four albums and 32 singles.
Eleni now calls Cyprus her "third homeland" after she was asked to represent them in this year's Eurovision.
Fuego has an instant hook, a memorable lyric and an energetic dance routine - all the ingredients that should, in theory, add up to Eurovision success.
"People have to believe that my performance comes so easy, but the truth is I'm dying on stage.
"It's so hard to do everything - the singing and the dancing together."
When this is compared to Beyonce's routines, Eleni says that's why the US star "is the best of the best of the best".
"You need your heart to pump so fast… and then bring it back down so you can breathe and sing. I do a lot of cardio."
Eleni's signature move is her hair flick, which she calls her "hairography".
"It's always been a part of my career. I did it at the start when I was 19 and it came so naturally. I'm making a new style of hairography."
If Cyprus does win this year, there has been talk about whether a country so small could even be able to stage or afford the event.
"We would be delighted, willing and able to host Eurovision if it came to it," says Michael Maratheftis, the director general of the Cyprus Broadcasting Corporation.
"We have already hosted the Junior Eurovision in Limassol. We would be delighted to do it again."
Cyprus has strong competition from other countries including Israel, Norway and France, who are all tipped to do well.
Follow Newsbeat on Instagram, Facebook and Twitter.
Listen to Newsbeat live at 12:45 and 17:45 every weekday on BBC Radio 1 and 1Xtra - if you miss us you can listen back here.