Kanye West: His mum's surgeon responds to album cover claims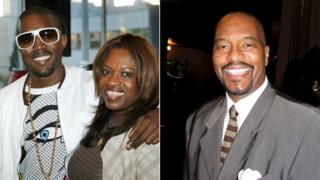 The doctor who performed plastic surgery on Kanye West's mum before she died has asked not to be used on the cover of the rapper's new album.
Kanye previously said that a picture Dr Jan Adams would feature on his upcoming record - saying that he wanted to "forgive and stop hating".
But Dr Adams said if the rapper's offer of love was genuine then "it's inappropriate to drag the negativity of the past with it".
Kanye's mum Donda died in 2007.
She passed away from heart disease after complications following liposuction and breast reduction surgery.
In an open letter to Kanye, Dr Adam's focuses on how he feels he's been misrepresented in the media in the years since Donda's death - with many outlets wrongly blaming him.
But he also applauded the rapper's apparent willingness to "forgive".
"I am impressed that you want to 'forgive and stop hating'. That's impressive. More of us need to adopt that philosophy," he wrote in the letter which was obtained by website The Blast.
He added: "I don't want to seem ungrateful... I just think that if in fact this conversion to love is genuine on your part... then it's inappropriate to drag the negativity of the past with it."
Kanye has since responded, saying: "This is amazing. Thank you so much for this connection brother. I can't wait to sit with you and start healing."
The rapper, who wrote about his love for his mum on 2005's Hey Mama, has previously said he blames himself for her death.
"When I moved to LA, she moved to LA. And she wound up in a place that would eat her alive.
"Even if I stayed in New York, it wouldn't have been like that. If I had lived in New York, she'd still be here," he wrote in a 2010 issue of XXL Magazine.
Her death is credited by many fans as a life and persona-changing moment for Kanye.
The rapper has recently returned to Twitter in the lead up to his new album being released on 1 June.
In several posts, he's been declaring his support of US President Donald Trump - something his wife Kim Kardashian has defended.
On a new track titled Ye vs. The People, Kanye goes back-and-forth with T.I. on the issue.
"You representing dudes who seem crude and cold-hearted," T.I. says, adding that Kanye is emboldening "white supremacy".
Kanye insists that he's "fighting for the people".
"Make America Great Again had a negative perception," he says on the song.
"I took it, wore it, rocked it, gave it a new direction, added empathy, caring, love and affection and y'all simply questioning my methods."
Kanye has previously said: "I don't agree with everything Trump does. I don't agree 100% with anyone but myself."
Follow Newsbeat on Instagram, Facebook and Twitter.
Listen to Newsbeat live at 12:45 and 17:45 every weekday on BBC Radio 1 and 1Xtra - if you miss us you can listen back here.