The Middle: Demi Lovato among artists who rejected hit song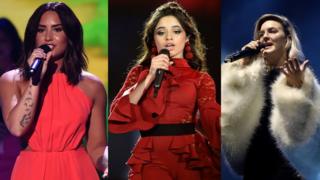 No-one likes rejection, so spare a thought for the writing team behind The Middle by Zedd, featuring Maren Morris.
The song's producers say 12 top female singers all recorded versions of the song but decided not to release it.
Demi Lovato, Camila Cabello and Anne-Marie are all said to have given it a go.
It was eventually taken on by Zedd, with Maren Morris on vocals, and debuted at the Grammy Awards this year.
"You're confident at the start, but the longer the song [sits around], the more you start feeling like it's slipping," Stefan Johnson, one of The Middle's producers, told Variety.
Stefan is one fifth of the Monsters & Strangerz production team.
He revealed that the song, which peaked at number seven on the Official Charts, sat collecting dust for more than a year before it was given the green light for release.
Stefan described country music star Maren Morris as "the angel that saved us all" and went into detail about why the other big names passed on it.
Demi Lovato
Demi Lovato was the first singer to be offered the chance to record the song - but Stefan says the singer thought the song was "too pop."
"She sounded awesome and we were really hyped on it," he said.
"But then we didn't hear anything after a couple weeks.
"We got the call. Demi thought it was too pop, she's trying to go more soulful and urban. We were super bummed."
Camila Cabello
After leaving Fifth Harmony Camila was shopping around for songs that would launch her as a solo artist.
Stefan says when she recorded her version of The Middle "it sounded like it was supposed to be".
And it was.
Her management reportedly didn't want the song to overshadow Havana.
Anne-Marie
By now it's now been 11 months since the song was written and still it remains on a hard drive with no release date.
For various reasons Bebe Rexha, Tove Lo, Bishop Briggs and Carly Rae Jepsen have all failed to agree on releasing the song.
The Monsters and Strangerz team get in touch with Anne-Marie, who flies out to Los Angeles.
The British singer records her vocals. Both sides are happy with the song.
Just one major snag: Anne-Marie already has a collaboration due out the same time - Friends featuring Marshmello - and her record label don't want the tracks to clash, according to the producers.
Another one bites the dust.
Maren Morris
The country singer is perhaps the least-known of all the artists to have a crack at the song but Stefan said she sounded "incredible" on it.
"The lyrics took on a whole new meaning when Maren sang," Stefan said.
The song made its debut during 2018's Grammy Awards show when it featured in an advert for an American supermarket chain... and as they say, the rest is history.
It's not unusual for a song to be recorded by several pop stars before it's decided who should get to release it - or for a song to be written with a specific artist in mind and someone else to pick it up.
For example Rihanna's Umbrella was originally written for Britney Spears.
Your playlist could sound pretty different if all these initials ideas had gone the way the songwriter intended.
Imagine Paris Hilton singing: "Don't cha wish your girlfriend was hot like me?"
Well it reportedly almost happened - but the 2005 smash Don't Cha was eventually recorded by the Pussycat Dolls.
Sia has also revealed that Katy Perry and Rihanna both passed on Pretty Hurts before it fell into Beyonce's hands.
Follow Newsbeat on Instagram, Facebook and Twitter.
Listen to Newsbeat live at 12:45 and 17:45 every weekday on BBC Radio 1 and 1Xtra - if you miss us you can listen back here.