'Library cuts to hit benefit claimants'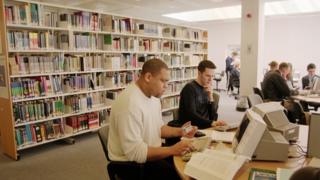 Universal Credit claimants who use libraries to apply for the benefit online could be hit by cuts to services.
That was the claim from members of the Libraries NI Board, the umbrella group for libraries.
Universal Credit is to replace six benefits including Jobseeker's Allowance and Housing Benefit.
It is believed claimants are applying for the benefit in libraries because they do not have home internet access.
It has also emerged that extra staff have been redeployed to libraries to ease pressure on services.
Rural areas
The board heard staff will only be deployed for a short period.
Board member and Mid Ulster Sinn Féin councillor Sean McGuigan said that in rural areas the only place many people could get online was at a library.
"Staff are under increasing pressure to help those who lack basic IT skills.
"It can take an hour to help someone claiming Universal Credit."
Lacking computer skills
Library staff are not permitted to fill in any part of the forms.
They are only allowed to assist claimants who lack the necessary computer skills.
Fellow board member SDLP councillor Thomas Burns, of Antrim and Newtownabbey Council, said:
"Libraries have a limited number of computers and people who are desperate to claim their benefits are having to wait until one is free, which only adds to their stress.
"The system is in danger of being overwhelmed."
'Uniquely placed'
Belfast City councillor Donal Lyons of the SDLP said Libraries NI were doing their best to teach people without any IT skills how to get online:
"Libraries are uniquely placed to provide this kind of help but with a further cut of 4% to Libraries NI's budget these types of programmes are coming under further strain.
"This is just the latest round of cuts and over the previous four years Libraries NI's baseline budget has decreased by nearly £5.5m."
The Department for Communities who administer Universal Credit said in a statement:
"Where a claimant cannot make and maintain their Universal Credit claim online, they may make a claim by telephone. To date, over 5,500 claims have been received and seven of these have been made by telephone.
"Exceptional circumstances may include claimants without an appointee (to claim for them) who: can't speak, read or write in English, are medically blind; are restricted from using the internet, or have mental health issues that restrict them leaving their home."