Arsene Wenger: Tears and laughter as fans react to him leaving Arsenal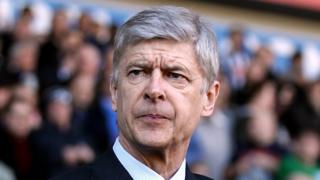 Arsenal have announced that Arsene Wenger will step down as manager at the end of the season, and fans are feeling conflicted.
The Frenchman has been in charge of the north London club for almost 22 years, winning three Premier League titles in that time.
#WengerOut has become a rallying cry from fans over the past few seasons.
Now that it's finally confirmed, there are both tears of joy and despair from football fans.
For some people, it's the news they've been waiting for.
While others are sceptical that fans really are that happy.
But, whether they were #WengerIn or #WengerOut, it finally looks like Arsenal fans are united - with a huge celebration of the manager's legacy taking place on social media.
The 68-year-old said Arsenal will have his "love and support forever".
That was a bit much for some people.
For many Arsenal fans, Arsene is all there has ever been.
Even those who had to play against his formidable teams of the early 2000s have been complimentary.
Gary Neville said teams like the Invincibles, who went the whole 2003-04 season without losing a single game on the way to winning Wenger's last Premier League title, were the "best teams that I played against".
There have been increased and repeated calls for the manager to leave over recent years, with Arsenal finishing outside of the Champions League places last season for the first time in Wenger's reign.
With Arsenal sitting sixth they look likely to miss out again, but still have the opportunity to qualify by winning the Europa League.
Regardless of league position, fans are pleased Wenger was able to call it a day himself.
While the statisticians have been hard at work picking out some of the most interesting facts from Wenger's time at the club.
Some will be easier to read for Arsenal fans than others.
It's given people a reason to reminisce.
And also spread the gospel about what Wenger achieved.
Including former players.
Neutrals and fans of other clubs have been letting their thoughts known too.
Questions are being asked about who will take over when Wenger leaves - with iconic captain Patrick Vieira and former Chelsea manager Carlo Ancelotti among the favourites.
Obviously fans have other suggestions.
For Radio 1's Greg James though, there's one bigger question left to answer.
Follow Newsbeat on Instagram, Facebook and Twitter.
Listen to Newsbeat live at 12:45 and 17:45 every weekday on BBC Radio 1 and 1Xtra - if you miss us you can listen back here.