Why I wanted my male rape to be on Coronation Street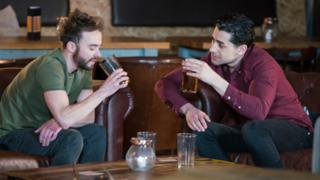 One of the big storylines in Coronation Street is the rape of hairdresser David Platt. He was drugged and attacked by newcomer Josh Tucker. It's the first time the soap has tackled the issue.
The story is partly based on the real experiences of 23-year-old Sam Thompson.
When he was 22, Sam was raped by two men after getting split up from his mates and girlfriend during a night out in Manchester.
Drunk, he got chatting with a group of blokes at 4am and ended up back at a hotel for "one more drink".
Sam doesn't know if he was drugged but remembers that everything went hazy and he then "froze" as "two men took it in turns to rape me".
He's been advising Coronation Street to help the soap make the experience - especially what happens to victims afterwards - as realistic as possible.
Here, Sam tells Newsbeat why he wanted to get involved.
I remember how I felt in those first few months after being raped. Secluded, ashamed, frustrated and anxious. It shouldn't and doesn't have to be like that but sometimes, as men, we need reminding.
That's what Corrie has done.
It's reminded us male survivors that it's OK, it's not our fault and we aren't alone with this.
Elements of my own story were used in the creation of the storyline, which has meant it has been a very difficult watch for myself.
But not just for me, for a lot of other survivors out there as well.
Many people have said that they don't think the storyline should be shown on our screens before the watershed, and others say that it shouldn't be shown at all.
I think if you look at all the positives that have come about since the story aired, it shows why it was the right decision.
So many people aren't aware that men can even become victims of such crimes - and the general acceptance that a man is only a man if he fights his way through life is just ridiculous.
We all have our own ideas of what masculinity actually is but for most, their belief is nothing more than an outdated idealistic view.
As a male survivor, I think this is one of the hardest things to come to terms with - as so many people just believe that they will fight or run if they were left in the same situation.
David wasn't in a position to fight back and he believed that he was safe in the company of a friend, which is what makes this storyline so powerful.
It shows that sexuality, gender, strength and courage have absolutely no part to play in who falls victim to unwanted sexual experiences.
That provides hope to the one in six men who have been sexually abused - and who, at times, are left feeling it was their fault.
What Coronation Street has done is literally life-changing for so many people within the UK and even further afield.
The amount of men that are now breaking their silence and seeking support for the first time is incredible.
They've stuck their neck out in the hope of making a difference and that, I believe, is commendable.
The level of consultation with organisations such as Survivors Manchester and their attention to detail shows Coronation Street wants to get this right.
They've started much-needed conversations, broken down barriers and most importantly enabled thousands of men to begin rebuilding their lives.
If you want any help or advice about rape and sexual assault, you can click to visit the BBC Advice pages.
Follow Newsbeat on Instagram, Facebook and Twitter.
Listen to Newsbeat live at 12:45 and 17:45 every weekday on BBC Radio 1 and 1Xtra - if you miss us you can listen back here.