Boris Johnson promises Tom Daley he'll raise LGBT rights with Commonwealth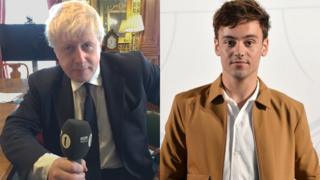 Boris Johnson has told Radio 1 Newsbeat that he will raise gay rights with leaders of countries where homosexuality is illegal.
The foreign secretary was responding to Tom Daley's call for Commonwealth countries to change their laws.
The diver spoke out after winning gold at the recent games on the Gold Coast in Australia.
"We encourage the celebration of LGBT across the world and the UK leads in that," Mr Johnson said.
Tom Daley is expecting a child with his husband, Dustin Lance Black.
After winning in Australia, he said: "I feel extremely lucky to compete openly as who I am, not worry about ramifications. But for lots of people living in those countries it is not the case."
Homosexuality remains illegal in 70% of the countries involved in the Games.
Organisers of the event insist the 2014 and 2018 Games have been "the most inclusive events in our movement's history".
But Tom clearly feels not enough is changing.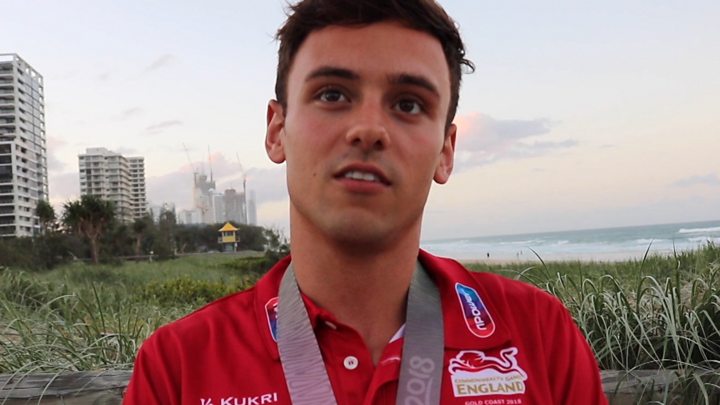 So Newsbeat played Tom's comments to Boris Johnson, ahead of the Commonwealth Heads of Government Meeting (CHOGM), where trade and other diplomatic matters are discussed.
It's attended by the same countries that take part in the Games.
The foreign secretary says he will use his influence to try to change attitudes.
"The UK campaigns on its values around the world in the Commonwealth - and in every forum we champion LGBT rights and we fly the flag in all our embassies," Mr Johnson said.
He insists that while he is "not going to pretend that we are going to transform global attitudes overnight", he will raise the issues.
"I had a conversation very recently with a Commonwealth country about this issue. I won't say which one, and I made the case which I believe in absolutely passionately.
"If you allow people to live their lives as they choose and to express their love in the way that they want, then you will find that you achieve far greater economic success as a result."
Newsbeat put it to the foreign secretary that the UK overlooks gay rights when trade and money is at stake.
"No we don't," insists Mr Johnson.
"You have just heard an account of the conversation I had with a particular Commonwealth leader and we don't overlook it and we make that point.
"There will be more on that over the course of the next few days."
His comments come as Prime Minister Theresa May said she regrets Britain's role in anti-gay legislation across its former colonies.
"Across the world, discriminatory laws made many years ago continue to affect the lives of many people, criminalising same-sex relations and failing to protect women and girls.
"I am all too aware that these laws were often put in place by my own country.
"They were wrong then and they are wrong now."
Follow Newsbeat on Instagram, Facebook and Twitter.
Listen to Newsbeat live at 12:45 and 17:45 every weekday on BBC Radio 1 and 1Xtra - if you miss us you can listen back here.