Call of Duty: Black Ops 4 'dropping campaign mode'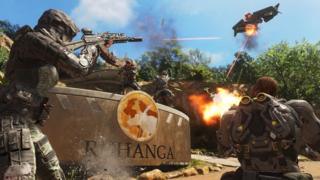 Call of Duty Black Ops 4 will scrap its single-player "campaign" mode, according to reports.
It would mean the latest version of the popular franchise only features online multi-player modes, and no story mode.
The news hasn't gone down well with people who struggle to stay alive online against highly skilled players.
It's believed the game, which is scheduled for release in October, could feature a battle royale mode instead.
The game's publisher, Activision, will stream the official reveal in May.
Some people think cutting the campaign mode could backfire.
A spokesperson for Activision told Newsbeat: "We don't comment on rumour and speculation. We look forward to revealing Black Ops 4 on 17 May."
The Call of Duty franchise has become one of the most successful in gaming history.
There have been 15 versions in the series, which sees players dropped into past and future wars, with almost every edition topping sales charts worldwide.
The game's campaign mode, while seemingly not as popular as multi-player online gameplay in recent years, has featured famous faces like Game of Thrones's Kit Harington, as well as Jeff Goldblum and even Conor McGregor.
And while there are those who will be sad to see the campaign mode go - if reports are correct - there are also those who are in favour of the potential change.
Call of Duty's decision to potentially ditch the single-player mode could coincide with the inclusion of a battle royale-inspired mode, after the success of recent similar titles.
Two of those, Fortnite and PlayerUnknown's Battleground have led the way in a surge of interest in the format.
The genre sees gamers, at times up to 100, battling in a closed-off area until only one remains.
There's also speculation that the development team is running out of time to complete Black Ops 4 because it is being released a month earlier than usual.
Call of Duty has traditionally been released in November but that month also sees the release of Rockstar's much-anticipated Red Dead Redemption 2.
Follow Newsbeat on Instagram, Facebook and Twitter.
Listen to Newsbeat live at 12:45 and 17:45 every weekday on BBC Radio 1 and 1Xtra - if you miss us you can listen back here.