More money creates 'brave new world for UK music', record labels say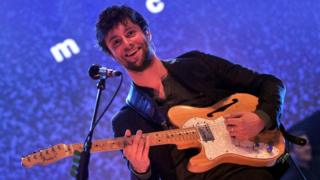 A rise in income from British music has created an "exciting time for new artists", record labels have told Newsbeat.
According to the BPI, which represents the UK's recorded music industry, record companies made £839m in 2017.
That's a 10.6% increase compared to 2016 - the fastest growth since 1995.
"It's taken that long for the industry to level itself out after the challenges of piracy," Gennaro Castaldo from the BPI says.
"Then there was also the digital revolution. It's finding its feet now."
The figures - which refer to the takings from streaming, downloads, physical sales and licensing for films, TV and computer games - have been driven by established names like Ed Sheeran, Sam Smith and Little Mix.
"They're now being joined by people like J Hus and Dua Lipa," explains Gennaro.
"What labels do brilliantly is to take that money and reinvest it.
"There's an incredible ecosystem - of course you've got established major labels carrying a lot of the weight but it [the rise in revenue] leaves space for dynamic labels.
"They're smaller operations but they're no less creative - they can find the right way to develop an audience."
'Brave new world for music'
"I started the label in 2009," says Jamie Oborne, who runs UK-based independent label Dirty Hit.
"Everyone thought it was a very peculiar decision given that it was such a tough time for selling music."
Dirty Hit is home to the likes of The 1975 and Wolf Alice as well as up-and-coming acts like The Japanese House and Pale Waves.
"The reason behind starting the label was investing in artists, creativity and taking chances," Jamie says.
"I had a couple of artists that nobody wanted to sign, including The 1975."
"I'll always do everything in my power to make sure acts can reach as many people as possible."
Jamie says the BPI's latest announcement "helps me trust in my instincts".
"There's always an element of risk but I think the risk is lessened by the figures that have come out today.
"For me, it means I can invest more in artists' careers.
"This is a brave new world for music, it's an exciting time for new artists."
'We can continue to take risks'
Having been a founding member of The Maccabees, Felix White launched Yala! Records with publicist Morad Khokar in 2016.
Since launching they've put out five singles, started a monthly event in London and released The Magic Gang's debut album which went to number 12 in the UK.
Felix tells Newsbeat that "95%" of everyone they spoke to before launching the label told them not to do it.
"We kind of looked at each other long and hard and felt something good about it," he explains.
"We wanted to be involved in the promising music we'd heard, but it didn't necessarily have the structural support it needed.
"Seeing the amount of amazing music which wasn't necessarily being signed by a major label, that we could frame and show to people has been an incredible thing."
Felix says a boost in income in music across the UK means labels like theirs can help new talent get heard.
"Really good music finds a way of existing because people care and we're constantly changing the way that music reaches people.
"My experience of the last year instils a bit more trust in ourselves that we can continue to take these risks and find a way of them working.
"That was pretty clear to us pretty quickly when we started this."
Follow Newsbeat on Instagram, Facebook and Twitter.
Listen to Newsbeat live at 12:45 and 17:45 every weekday on BBC Radio 1 and 1Xtra - if you miss us you can listen back here.