Amber Rudd: I don't agree young people have nowhere to go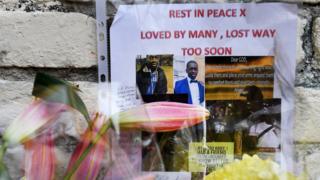 Home Secretary Amber Rudd has rejected claims that young people are drawn into violent crime because they don't have anywhere to go.
In an interview with Newsbeat, she said the government was committed to investing money into youth services to divert people away from knives.
"We are actually putting in more money and more targeted money to the areas where it's really needed," she added.
But Ms Rudd said there was no "one silver bullet" to answer the problem.
Newsbeat's politics reporter Jim Connolly sat down with Ms Rudd at a youth centre in London which works with young people involved in disputes that could turn to violence.
The Home Office has said it will spend £40m on a new strategy to tackle serious violence.
Jim quizzed her on cuts to policing, investment in youth services and what the government was doing to tackle the rise in violent crime.
Jim: We need to get into the fact you said cuts in police numbers have no impact on violent crime but your own department says otherwise.
Ms Rudd: Policing is under increase pressure because we've seen them receiving reports of additional crime so about half the recorded increase in violent crime is because there's more reporting and we want more reporting.
Jim: One young man we spoke to said austerity across the board means young people have nowhere to go and they're not protected because there aren't the police numbers on the streets.
Ms Rudd: In 2008, we had more police on the streets than we had now and knife crime was higher and serious violence crime was higher - the direct correlation is missing there.
In terms of young people I'm talking to people who are engaged in working with young people and it's absolutely about making sure these organisations are supported so that young people do have somewhere to go.
Jim: Is it not a bit ironic that you're sitting here in a youth centre saying we need more places for young people to go when, in London alone, a third of the budget for youth centres have been cut? Young people have got nowhere to go and feel unsafe on the streets.
Ms Rudd: I don't agree that young people have got nowhere to go. As you say I'm sitting in one here today and we're putting in more money to make sure that there is support to divert young people away from knife crime.
Jim: What in your strategy are you going to do to take people away from carrying knives?
Ms Rudd: I could give you some examples of what we're doing but it would be a mistake to think there is one silver bullet to answer this. We launched a big marketing campaign last week which is all over social media about how young people should be knife free.
This isn't just about government putting forward solutions, this is about whole communities and it's about policing as well.
Jim: It's about funding. You're cutting youth services when you say we need more youth services. How does that work?
Ms Rudd: We are actually putting in more money and more targeted money to the areas where it's really needed. The troubled families programme is £920m over five years.
Be in no doubt we are completely committed to make sure we support young people with the additional resources that are necessary to give them the alternatives to the offer that's put forward by the terrible criminals on the streets.
Listen back to the interview on BBC iPlayer
Follow Newsbeat on Instagram, Facebook and Twitter.
Listen to Newsbeat live at 12:45 and 17:45 every weekday on BBC Radio 1 and 1Xtra - if you miss us you can listen back here.