Asos apologises for 'onilne' spelling mistake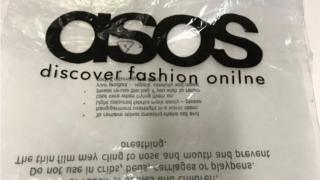 Online retail giant ASOS is the latest victim of a branding spelling mistake.
It accidentally printed 17,000 plastic bags with the word "onilne" printed, rather than "online".
The fashion house then owned up to the error on social media, and joked the packaging would now be a limited edition.
But it's not the first time brands have made mistakes like this, so here's a quick spin through some of the best examples.
Mitt Romney's America
During the presidential election in 2012, Republican candidate Mitt Romney's mobile app, misspelled "America."
Emma Watson's tattoo
The actress was spotted with "Times Up" on her arm to mark the Hollywood movement, but fans quickly spotted a missing apostrophe.
She joked about it after.
Trump's delight
Donald Trump had been president for just a day when he posted a tweet with a typo.
And of course, people were ready to screenshot it.
The £128m mistake
Keyboard slips can be embarrassing, but they can also be costly. In 2005, a division of one of Japan's largest investment banks, Mizuho Securities Co, listed shares on the Tokyo Stock Exchange.
But instead of selling them for 610,000 yen each, a typing error led to the sale of 610,000 shares costing one yen. The mistake cost the company £128m.
When people and pepper get confused
Penguin Australia printed in The Pasta Bible the word "people" instead of "pepper".
And that hopefully explains why a recipe required "salt and freshly ground black people". The publisher had 7,000 copies of the book destroyed.
The NYC map mistake
The Metropolitan Transportation Authority in New York displayed outdated fare information, reducing the journeys by fifty cents. It had to stop circulating the old rates and it ended up costing them a quarter of a million dollars (£177,000).
Follow Newsbeat on Instagram, Facebook and Twitter.
Listen to Newsbeat live at 12:45 and 17:45 every weekday on BBC Radio 1 and 1Xtra - if you miss us you can listen back here.