Daniel Bryan to return to the WWE ring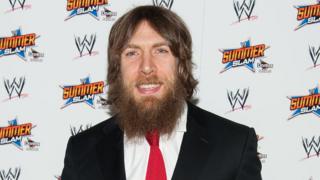 Four-time WWE world champion Daniel Bryan has been medically cleared to return to the ring.
He was forced to retire from wrestling in February 2016 after sustaining several concussions.
WWE says he's been checked over by leading neurosurgeons, neurologists and concussion experts.
Daniel, who is now the SmackDown Live general manager, said: "Thanks to the amazing people supporting me, I was able to keep fighting for my dream."
Despite enormous success within WWE, Bryan was forced to retire two years ago.
He suffered several concussions from blows to the head which meant it wasn't safe for him to wrestle.
In an emotional address to fans on Tuesday, he said it was his wife who told him not to give up on his dream of wrestling again.
"There were times when I was depressed about not being able to do what I love to do, and I focused on being grateful.
"There were times that I was angry and mad that I couldn't do what I love to do, and I focused on being grateful, and I have a lot to be grateful for.
"I have amazing family, I have amazing friends, I have the best fans in the world, and I also have an amazing beautiful wife."
The wrestler, who also describes himself on Twitter as the "King of Beards", then went on to thank the WWE and its doctors.
"Over the last two months I've asked WWE to relook at my case and they sent me to the best neurologists all over the country.
"All of these neurologist, every specialist, every doctor I've seen, has said the same thing and it is this. You are cleared."
Bryan said he'll be "forever grateful" to WWE for looking at him "as a person and not as a wrestler".
He also thanked his supporters, saying he didn't know exactly when or where he'd get back in the ring.
This was followed by chants of "WrestleMania" to which he replied: "I don't know for sure if that's going to happen, but will Daniel Bryan compete in a WWE ring again? Yes."
Follow Newsbeat on Instagram, Facebook and Twitter.
Listen to Newsbeat live at 12:45 and 17:45 every weekday on BBC Radio 1 and 1Xtra - if you miss us you can listen back here.