How Dr Dre and Jimmy Iovine's partnership led to billion dollar Beats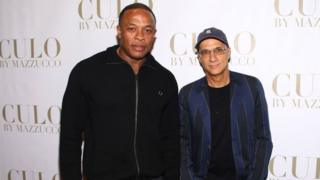 Jimmy Iovine went from sweeping floors to becoming a top music executive that helped launched the careers of the likes of Eminem, 50 Cent and Lady Gaga.
His partnership with Dr Dre saw him sign some of the biggest names to his record label Interscope Records.
Many saw their business arrangement as strange.
Jimmy was producing rock 'n' roll artists while Dr Dre was one of the founding members of the gangsta rap group NWA.
But together they produced superstars and created the company Beats - which they sold to Apple for £3bn in 2014.
It was the biggest deal the tech giants had ever made.
"Something about me and Dre just clicked, we've never argued," Jimmy tells Newsbeat.
"There are ideas he has that I don't agree with and ideas I have he doesn't like."
Their story is now being told in a new documentary for Netflix called The Defiant Ones, which charts their American childhoods, how they met and the creation of Beats.
When Jimmy heard Dr Dre's solo material he knew he wanted to work with him.
It was a risk at a time as there was a lot of hostility towards gangsta rap during the early 90s.
It was claimed the music was promoting crime, homophobia and gang violence amongst many other things.
"I wasn't a hip hop guy until I met Dre," Jimmy explains.
"I was coming from a rock 'n' roll background which had the same issues but not as serious.
"But once I get something that I want to push, I just get energised, I don't care what anybody says."
He was told a white rapper would never sell, but he believed in Eminem.
He signed him to his label and The Marshall Mathers LP is still the fastest selling rap album in history.
But it was the creation of Beats that was arguably their greatest risk and it turned both Jimmy and Dr Dre into multi-millionaires.
"It started in 1990 when Napster came out and I said to Dre we are toast in this form of the business," Jimmy explains.
"So I tried two or three different ideas when Dre said to me 'My guy wants me to sell sneakers' and I said 'No man, your thing is audio' and he says 'Yeah I can see that' and he had the name Beats."
Jimmy then decided they should make headphones that gave the best sound quality but also had personality and Beats by Dr Dre was born.
They then entered the streaming market with Beats Music before selling to Apple.
It is quite the success story considering Jimmy was fired twice from his first job as a floor sweeper.
"I just didn't know what I was doing, I had no skills so I would make mistakes all the time, so they fired me," he laughs.
That didn't put him off pursuing his dreams.
"I just said I have got to do whatever it takes," he says.
"You have got to be of service, do whatever you can to be in the room with the best people you can.
"If that means sweeping, sweep, if that means setting up a microphone, set it up. Learn from the best and get in that room somehow."
Follow Newsbeat on Instagram, Facebook and Twitter.
Listen to Newsbeat live at 12:45 and 17:45 every weekday on BBC Radio 1 and 1Xtra - if you miss us you can listen back here.