Boris Johnson: Rohingya refugees could be radicalised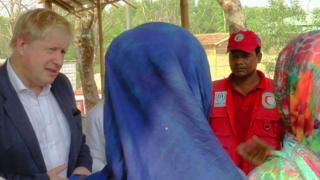 Boris Johnson says there's a danger of Islamist extremists converting Rohingya refugees to their cause in the world's largest refugee camp in Bangladesh.
The foreign secretary said: "You can imagine they'll start saying: 'You guys have suffered an injustice. Here we are - listen to our message."
Speaking to Newsbeat, he praised the Bangladeshi government for preventing extremism in the camp so far.
More than 700,000 people have fled Myanmar for Bangladesh since August.
Those Rohingya Muslims have made accusations of murder, rape and arson against soldiers and vigilantes.
The United Nations says they were escaping a "campaign of terror and forced starvation".
Myanmar's military says it is fighting Rohingya militants and denies targeting civilians in Rakhine state.
'They have every reason to be frightened'
Mr Johnson said when he recently visited the refugee camps he was "shocked to see the huge number of people [there]".
The UK government has spent £59m since August helping Rohingya refugees in Bangladesh.
"When you look into these people's eyes, they are frightened," Mr Johnson said.
"And they have every reason to be frightened."
He said to "sort out" the crisis it will take "a lot of money and a long time".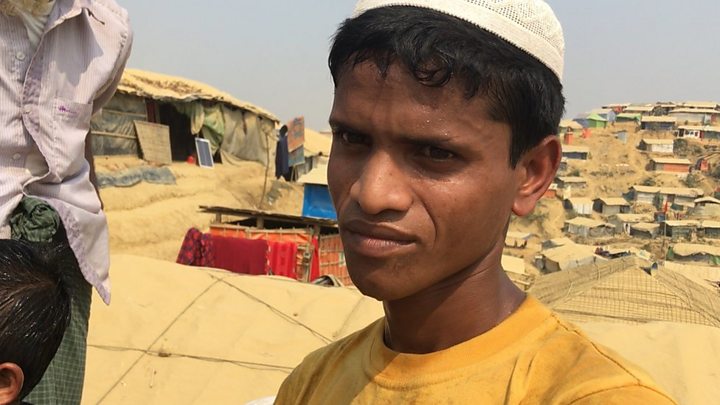 Since the foreign secretary visited Bangladesh and Myanmar in February he says he has been "ringing a lot of countries around the world".
"I've been trying to build support for the Rohingya and getting them back home," he explained to Newsbeat.
"It is just so sad to find how little global willingness there really is to deal with this.
"Let's face it, what's happened in [Myanmar] is racism. It's discrimination against a group of people because they come from a different community because of their religion and their ethnic background."
Follow Newsbeat on Instagram, Facebook and Twitter.
Listen to Newsbeat live at 12:45 and 17:45 every weekday on BBC Radio 1 and 1Xtra - if you miss us you can listen back here.