Simpsons writer: Stephen Hawking was a beautiful man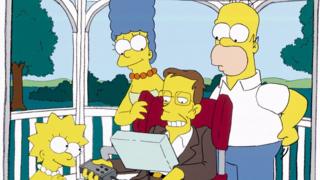 One of the writers for The Simpsons has told Newsbeat Stephen Hawking was such a big fan of the show - he'd show up to rehearsals.
The world renowned physicist has died aged 76.
Matt Selman scripted the first of several episodes of the cartoon to feature Professor Hawking - back in 1999.
He's described him as a "beautiful man" and says he's "immensely proud" to have shared in his legacy.
In the episode, called They Saved Lisa's Brain, Professor Hawking shows up to rescue Springfield's high IQ society from a baying mob.
After revealing he's got a spring-loaded boxing glove and helicopter blades concealed in his wheelchair, he ends up sharing a beer with Homer - who refers to him as "Lisa's robot buddy".
But, despite all of this, Matt says he wasn't nervous scripting the lines.
"I think if you're a true fan of the Simpsons you don't want the show to kiss your butt - even if you're Stephen Hawking," he says.
"But what was really cool is that he typed all the lines into his own speech computer himself and that's what we recorded.
"So he went into the recording studio, put the script into his computer and then his computer spat it out - instead of us just getting the computer to read it out directly.
"I like that he would sit and take all the time to type the goofy lines into his computer - I like the fact that he had to put the word 'fruitopia' into his special talking machine."
Matt also says there was only one thing Professor Hawking had an issue with - in the bar scene he didn't want to be portrayed as drunk.
It was the start of an ongoing relationship between the cartoon show and the physicist.
He appeared several more times, describing it as "the best show on American television".
"What I think connected him to the show was that we had a very pro-curiosity, pro-scientific, pro-intelligence point of view," Matt says.
"When he was in LA he would just come to table reads and enjoy them as a fan.
"We would show up for an episode - there's Dan Castellaneta, voice of Homer, there's the writers, there's the show's creator Matt Groening - and there's Stephen Hawking, just hanging out."
The Simpsons isn't the only show the physicist featured in - he also clocked up cameos in Futurama, The Big Bang Theory and Star Trek.
But it's arguably his appearances in Springfield which will be remembered best. When asked in 2010 what the biggest misconception about his work was, he joked that he's too often mistaken for a Simpsons character.
"His true legacy of meaning and understanding is a little bit coloured by having been in Simpsons colours," Matt says.
"I'm immensely proud, he's a beautiful man and to share in anyway his legacy and to have propagated it is tremendously satisfying."
Follow Newsbeat on Instagram, Facebook and Twitter.
Listen to Newsbeat live at 12:45 and 17:45 every weekday on BBC Radio 1 and 1Xtra - if you miss us you can listen back here.