Florida shooting: How teenagers started a political campaign in 30 days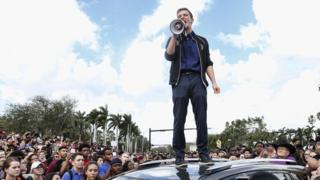 "Someone's shooting up the school at Stoneman Douglas."
These were the first panicked words over the phone from a student when a gunman entered his Florida high school on Valentine's Day.
The 911 responder replied: "I'm sorry, I can't hear you. What's happening?"
"Someone's shooting up Marjory Stoneman Douglas."
"Someone is doing what? Hello? Hello? Hello?"
The student is whispering now: "Marjory Stoneman Douglas High School is being shot up."
"It's being shot up? Are you at the school?"
The caller whispers something.
"I can't hear you," says the responder. "Are you at the school?"
There's a pause. Then the caller hangs up.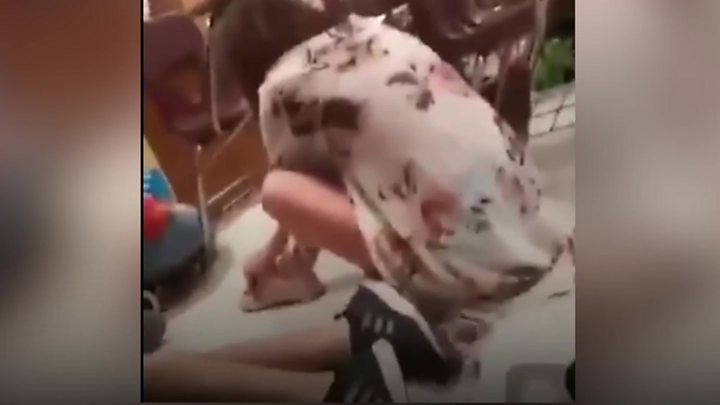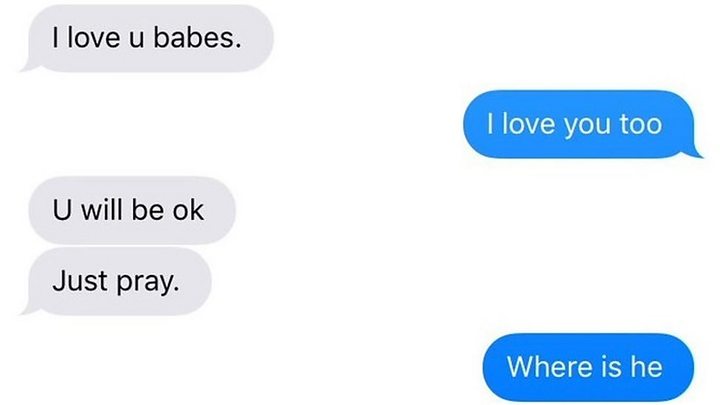 The day everything changed
That Valentine's Day, the lives of 3,300 Marjory Stoneman Douglas High School pupils in Parkland, Florida, changed forever.
The shooter killed 17 people. Others are still fighting for their lives in hospital.
It's become an almost unremarkable event in modern America: This was already the sixth school shooting of 2018 in the US.
But this time was different. Because instead of just accepting it for part of daily life, this group of 16, 17 and 18-year-olds decided that guns were tearing apart communities and that too many innocent people were dying.
This is the story of how they started a political movement in just a month.
They have a clear message: "Never Again".
The seed of the campaign was planted less than 24 hours after the attack.
Gathering in a local park with candles, students were embracing their friends, talking to the media or grieving quietly.
"That's when we all held hands together and said 'This is where there's going to be change. This is where it's going to be different'," Jared, a Marjory Stoneman Douglas student, tells Newsbeat.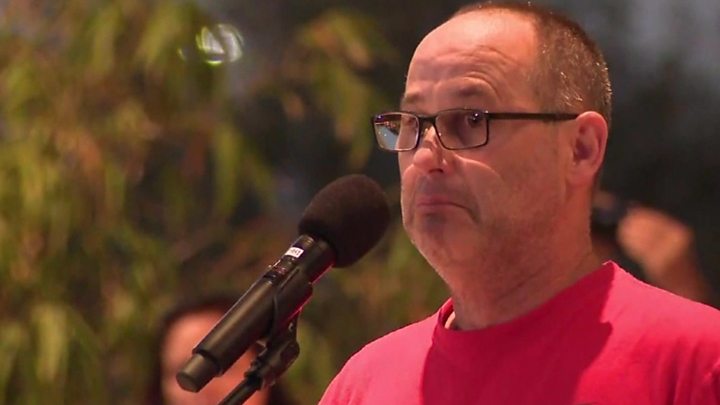 That was a Thursday. By the weekend, the Never Again movement was up and running.
It was amplified on social media with hashtags including #NeverAgain, #MarchForOurLives, #WhatIf and #IWillMarch.
But this time, it was much more than an online movement which politicians could ignore.
Tweeting "thoughts and prayers" wouldn't be enough this time.
It was a real movement, with real people, in real life.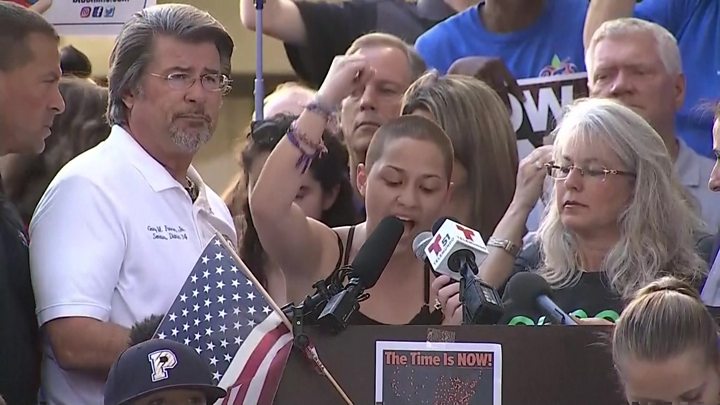 Calling 'BS' on gun culture
Never Again would culminate with a demonstration on Washington DC which the campaign was calling the March For Our Lives.
Its first major piece of media coverage came on the Saturday with an emotionally charged speech by Emma Gonzalez.
"[To] companies trying to make caricatures of the teenagers these days, saying that all we are is self-involved and trend-obsessed, and they hush us into submission when our message doesn't reach the ears of the nation: We are prepared to call BS," she cried.
"They say tougher guns laws do not decrease gun violence," she added. "We call BS."
That speech seemed to change how the world's media covered this latest shooting - instead of the killer being the main story, it became about the survivors who were fighting on behalf of their dead friends and teachers.
Six days after the shooting, 100 students were on a bus, on a seven-hour trip to the state capital Tallahassee to meet politicians and representatives of the NRA (National Rifle Association).
A lot of people who watched the televised meeting may have been surprised by how articulate, outspoken and well informed the students were.
They held their own against some of the most influential people in America - on both sides of the gun control debate.
But you only had to hear them speak for a couple of minutes to realise that anyone underestimating these teens would be caught off guard.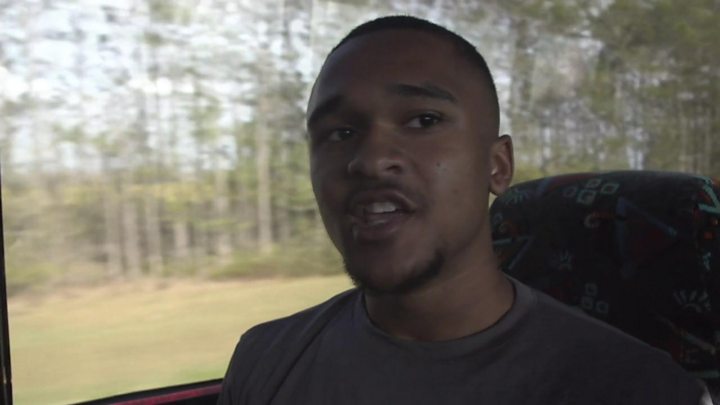 More than a hashtag
Just a week after the shooting, and with the help of celebrities' money, momentum had built.
Had this just been a hashtag, the chances are it would have died down by now.
Instead, the group of Florida teens taking on politicians and lobby groups had inspired young people around the country to start their own protests.
Schools nationwide were staging walkouts - many of them leaving class for 17 minutes to symbolise the 17 lives lost in Parkland.
They too were saying that enough is enough.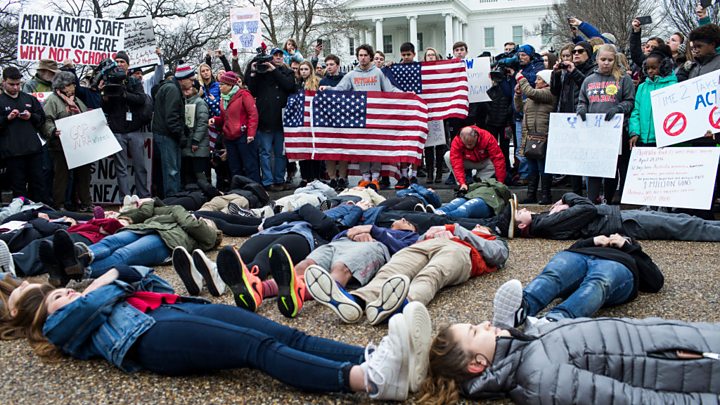 Change happens
The teenagers of Marjory Stoneman Douglas were putting more and more pressure on politicians to make a change.
They were clear that they didn't want to ban guns. They just wanted more stringent checks on who was allowed to buy them.
The NRA, an organisation with five million members in the US, is against stricter gun laws.
One of its slogans is "from my cold dead hands" - referring to the only way people will be able to take their guns away.
But under the pressure of the Douglas students, the organisation found itself at the centre of a boycott.
Car rental companies, airlines and insurance companies stopped offering discounts to NRA members.
The changes kept on coming.
Two major US retailers announced new restrictions on gun sales.
Dick's Sporting Goods said it would no longer sell assault-style rifles - and Walmart raised the minimum age for anyone buying guns or ammunition to 21 years.
'They weren't the ones who heard the gunshots'
As the movement grew, its opponents became more enthusiastic in their opposition. Much of it came online.
The main figureheads of Never Again were accused of being "crisis actors", put up by the anti-gun lobby to try to ban guns.
They were told that it was too soon, and that they were disrespecting their deceased friends and teachers by making this a political movement.
They were told to leave the serious stuff to the adults.
Florida State Representative Elizabeth Porter said: "Do we allow the children to tell us that we should pass a law that says 'No homework?'"
"If you've fallen victim to gun violence, I think you're pretty eligible to talk about it," Amanda, a 16-year-old student at the school, tells Newsbeat.
"We understand we're just kids, but they can't tell us that what we're advocating is not right just because we're too young.
"They weren't the ones who heard the gunshots, they weren't the ones who ran, they weren't the ones who hid in closets, who hid behind desks, they weren't the ones who were shot at, and they weren't the ones who witnessed their peers die right in front of them. So they don't have a say."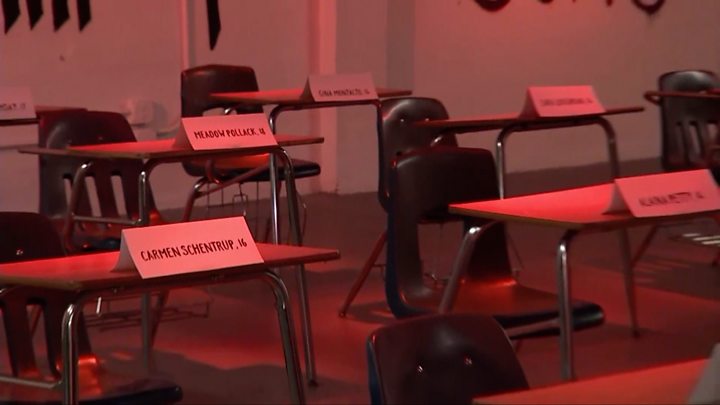 Political progress
The momentum rolled on.
On 6 March, less than three weeks after the shooting, Florida senators voted to raise the age to buy a firearm from 18 to 21 and require a three-day waiting period for most weapons.
Three days later it was signed off by the governor of Florida.
If you were in doubt that this was as a direct result of political action by the students in the Never Again movement, the bill is called the Marjory Stoneman Douglas High School Public Safety Act.
A new normal
Just over a month on from the attack on their high school, and the students at Marjory Stoneman Douglas are trying to get back to normal.
"Inside the red gates of Douglas, we're all normal kids. We're just students, we're not famous," student Nikki tells Newsbeat.
"We see that things are different, but it's a good kind of different."
A march for their lives
On Saturday 24 March, the Never Again students will be outside the home of the man they most need to convince - President Trump.
In the last month, he's flip-flopped from one stance to the other.
He's definitely pro-gun - something the Florida students would say is due to the $31m (£22m) the NRA spent on supporting Trump and attacking Hillary Clinton during the 2016 presidential election.
In the aftermath of the attack, he met some of the survivors of the attack.
He's suggested arming teachers, said he would have run into the school without a gun to protect students - but he also suggested stronger gun reform.
He also went back on an earlier suggestion he would raise the national age to buy a gun.
President Trump also met video games company representatives to discuss violent content.
He'd previously said that violent games were "shaping young people's thoughts".
The games industry defended itself, saying there is no evidence to suggest a link between violent games and real-life violent actions.
It's not been plain sailing for the students of Never Again - they still need to convince their president to enact stricter gun control.
Their wish to be the last ever school to be attacked by a gunman has already failed.
A 17-year-old girl, Courtlin Arrington, was killed by a classmate at Huffman High School in Birmingham, Alabama, exactly three weeks after the Parkland shooting.
The Florida gun control act which bears their school's name also includes something many of them are against - a provision to arm some teachers in schools.
The long term
And while momentum is still with them now, many key members will be going off to university this summer, disbanding all over the country.
That could make it a lot more difficult to keep the movement going in a few months' time.
But they're realistic about time. After all, this is an issue which previous presidents have tried and failed to tackle in the past.
"We understand that what we're trying to achieve, we won't get that today, probably not tomorrow or the day after," says Amanda.
"It's a long process. It would take years, even."
But - as many students keep reminding their current politicians - many will be old enough to vote in this autumn's mid-term elections.
"This is just the beginning," Alyssa, a Marjory Stoneman Douglas student, tells Newsbeat.
"None of us are ready to give up until we see a change.
"We know change is happening."
Follow Newsbeat on Instagram, Facebook and Twitter.
Listen to Newsbeat live at 12:45 and 17:45 every weekday on BBC Radio 1 and 1Xtra - if you miss us you can listen back here.